Nurse's Little Helper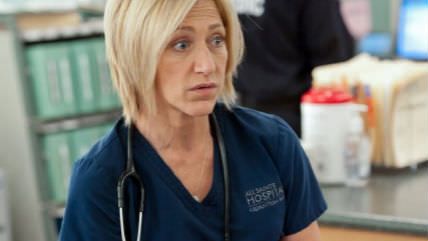 The fourth season of Nurse Jackie, the Showtime TV series starring Edie Falco as a super-competent emergency-room nurse with a fondness for pain pills, begins with her character in rehab. It is a thoroughly predictable outcome for a TV addict, except that Jackie Peyton's drug-related problems stem almost entirely from the fact that the drugs she favors are legal only for doctor-approved medical use.
Jackie is very good at her job, which never seems to be compromised by her drug use except to the extent that she lies and cheats to get painkillers (along with the occasional stimulant) and to cover up her habit. Hence she invents injuries, deceives friends, swipes medication, and starts an ill-advised extramarital affair with the hospital pharmacist.
If Jackie could simply walk into a store and buy the oxycodone, hydrocodone, and amphetamine that help get her through the day, those problems would disappear. Which raises the question: Does Jackie have a drug problem or a prohibition problem? —Jacob Sullum