Katherine Mangu-Ward on Entrepreneurs and the Gray Market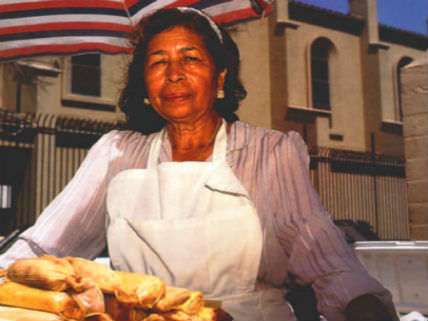 In November 1993, Reason introduced readers to Marta, an immigrant from Ocotlán, Mexico. Marta came to the United States legally in 1971 as the wife of an American citizen. But she quickly joined the "informal" economy of Los Angeles, the gray and black markets that help meet demand for cheap, off-the-books services of all kinds. Soon she was so busy selling tamales she had to bring a niece from Mexico to help her keep up with the demand.
Life in the gray market isn't all pork sausage and roses, though. "You have to watch out for the police," Marta said. Not much has changed since then, writes Managing Editor Katherine Mangu-Ward. Today the Los Angeles Department of Public Health routinely confiscates the inventory and propane-powered mini-carts of unlicensed folks selling bacon-wrapped hot dogs or other taste treats deemed dangerous by the government.