Kid's Hot Dog Stand Shut Down by City Officials Before It Even Opens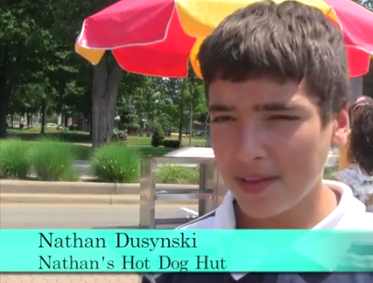 This summer, 13-year-old Nathan Duszynski wanted to make some money to help out his disabled parents—his mom has epilepsy and his dad has multiple sclerosis. So he decided to open a hot dog stand. He saved $1,200, mostly money made by mowing lawns and shoveling snow. He checked with the city to make sure he didn't need any licenses or permits, even going to city hall in person with his mom. And then he bought a cart. (Yep, that's hot dogs from Nathan's, for those who are keeping score at home.) 
He arrived to set up shop on his first day and 10 minutes later, a zoning official arrived to shut him down. The problem: The cart, which is in the parking lot of a sporting goods store, is on the edge of official downtown commercial district of Holland, Michigan. The city bans food carts in that area in order to minimize competition for the eight tax-paying restaurants a couple of blocks away.
As it happens, I've been to Holland. It's a lovely town, but not exactly a booming metropolis. And frankly (ha!), after an evening of Blue Motorcycles Butch's Dry Dock, a hot dog would really have hit the spot. The city says it is willing to work with Nathan, but keeping food carts out of the small, walkable downtown area is pretty much the same thing as banning food carts altogether. Nathan and his family obviously know that: The hot dog cart is now for sale.
The Mackinac Center has made a nice little video about the ridiculous story:
More on zoned out lemonade stands. More on food carts and trucks.
UPDATE: You can help Nathan out by going here.