Tate Watkins on How Joplin, Missouri Circumvented Bureaucracy to Rebuild After a Devastating Tornado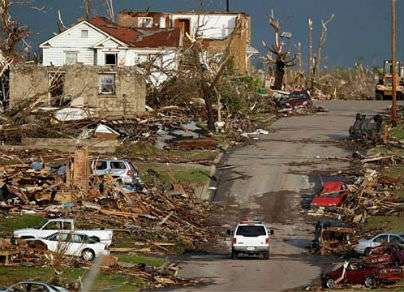 On May 22, 2011, a tornado ripped through the town of Joplin, Missouri. The multi-vortex storm cut an eerily straight west-east line through Joplin's downtown street grid, growing to three quarters of a mile wide at its peak. It was the deadliest tornado since modern recordkeeping began in 1950, according to the National Oceanic and Atmospheric Administration. But as the one-year anniversary of the storm approached, Joplin found itself in startlingly good shape. Local officials estimate that insurance claims will total $2 billion, yet the town's business tax revenues are actually up for the year. School enrollment is 95 percent of what it was before the tornado, and the vast majority of displaced residents have secured lodging in or near the area.
Joplin's recovery contrasts with the fitful, fraught response to the destruction wrought by Hurricane Katrina in New Orleans, 700 miles to the south, in 2005. The two storms, writes Tate Watkins, like the two cities, were different in nature and scale. But there were also disparities in the official and unofficial responses after the initial damage. While the people of Joplin largely took matters into their own hands, pushing aside burdensome rules and refusing help when it came with too many strings attached, New Orleans and the surrounding area to this day remains hamstrung by federal, state, and local bureaucracy. Joplin's experience offers a powerful lesson in self-sufficiency and knowing when to say "no thanks" to government.