Scott Walker Challenger Tom Barrett Calls for Wisconsin State Worker Benefit Cuts
Even Walker's opponent realizes government employee compensation is out of control.
PORTAGE — Every campaign evolves away from core talking points, but Democratic Milwaukee Mayor Tom Barrett is sticking by a plan that could mean up to $14,000 in compensation cuts for state workers.
After a campaign rally here Monday, as Barrett attempts to energize his supporters ahead of Tuesday's recall election, he stood by his plan to "Put Madison on a Diet," a 67-page document he issued during his 2010 run for governor.
"The underlying tenets are still there," Barrett told Wisconsin Reporter about the plan. "They're very much what we're looking at."
If the plan is still on the mayor's mind, it's nowhere to be found on his campaign website. A search of his 2012 site,BarrettforWisconsin.com, fails to reveal any mention of the strategy. The direct link for the plan — BarrettforWisconsin.com/Diet — leads to a "Page not found" warning.
In 2010, however, the government spending reduction playbook featured prominent billing as one of the mayor's top platform issues. Hewrote an editorial about it and made reducing government spending the subject of his second 2010 television ad.
"I have a plan to put Madison on a diet that will immediately save Wisconsin taxpayers more than $1 billion every year in specific spending cuts and savings," Barrett wrote July 9, 2010.
The strategy also included reducing health care for state prison inmates, improving state and local government purchasing power, and cracking down on Medicaid fraud. All told, Barrett said his plan would save taxpayers more than $1.1 billion annually. 
Perhaps the reason the mayor is mum on the topic is that it could offend some of his most fervent supporters: public workers and their unions.
As part of the plan, Barrett says he wants to "rightsize" — see also: layoffs — state government and put public-worker pay and benefits more in line with private-sector compensation.
"We can change the culture in Madison by … keeping state employee compensation and pensions in line with the private sector," Barrett wrote on his 2010 website.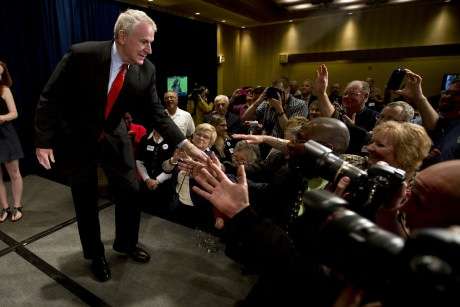 If Barrett wins Tuesday and follows through on his pay equality objective, state workers could be in for a shock.
Even after Republican Gov. Scott Walker's Act 10 reforms — legislation to curtail collective bargaining rights and require public workers to pay more for pensions and health care — public employees still fare much better than their private counterparts., resident scholar,
A May 30 study by American Enterprise Institute's Andrew Biggs, resident scholar, and Jason Richwine, senior policy analyst, showed that "pension benefits for Wisconsin public employees are roughly 4.5 times more valuable than private sector levels while health benefits are about twice as generous as those paid by larger private sector Wisconsin employers."
In all, the report said, public workers make about 22 percent more than the state's private employees.
To put all workers on a level playing field, public workers would be in for a drastic benefit and compensation cut.
"In dollar terms, the average Wisconsin state worker after Act 10 receives total compensation including benefits equal to $81,637 versus $67,068 for a similarly-skilled private worker, a difference of $14,569," wrote the researchers from the think tank.
Barrett didn't comment on the specifics of his plan, as questioning ended immediately after the mayor answered questions about his state government diet plan.
Still, he said, the people want a fiscally sound government, and that's what he plans to offer.
"That's what people expect, and that's what we will deliver," Barrett said.
Walker leads Barrett by at least 3 percentage points in the latest count, though the mayor's campaign says the race is a virtual tie. 
This article originally appeared at WisconsinReporer.com