Gallup: 78 Percent of Americans Believe In Some Form of Creationism, Nearly Half Believe In Adam and Eve
According to a new Gallup poll, a plurality of Americans—46 percent, to be exact—believe that God made human beings just as they are today sometime in the last 10,000 years. That number is up from 40 percent in 2011 (which was down from 46 percent in 2006).
The number of people who believe God guided the process of evolution over millions of years fell from 38 percent to 32 percent in the last year; during the same period, the number of people who believe God is a lie and humans came from damn dirty apes fell from 16 percent to 15 percent.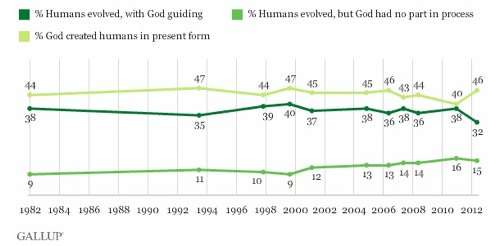 The longview from Gallup: "Some 78% of Americans today believe that God had a hand in the development of humans in some way, just slightly less than the percentage who felt this way 30 years ago. All in all, there is no evidence in this trend of a substantial movement toward a secular viewpoint on human origins."