The DEA Continues Its War On Nursing Home Residents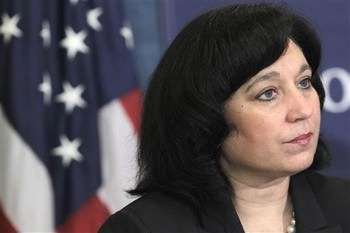 Under Administrator Michele Leonhart, the Drug Enforcement Administration has been engaged in a three-years long war against longterm care facilities that allow nursing staff, at the behest of doctors, to submit pain prescriptions for patients.
The reasoning for this practice that a doctor isn't always around when a patient—say, an 87-year-old dementia patient who has just undergone major surgery—needs more painkiller medicine. So, historically, when a doctor hasn't been able to call in a prescription personally, nursing home staff have done so on the doctor's behalf.
On the grounds that prescriptions may be called in, collected, and resold by nurses (but never by doctors), Leonhart and the DEA have been trying to put a stop to this practice since at least October 2009, when the Washington Post first reported that the administration was "denying some hospice and elderly patients needed pain medication."
That year, pharmacists and geriatric care groups sounded the alarm about the drug war's mission creep, and the Senate Committee on Aging accused the DEA of contributing to "adverse health outcomes and unnecessary rehospitalizations, not to mention needless suffering."
After almost two years of back-and-forth with Leonhart and Attorney General Eric Holder, the Senate Committee on Aging told Reason that it was close to a solution. That was in May 2011. It's now May 2012, and the DEA has just won a $50 million settlement against a pharmacy that violated the administration's rules in order to help nursing home patients:
Pharmaceutical company Omnicare, Inc. (NYSE:OCR), the nation's largest pharmacy for long-term care facilities, must pay the U.S. government $50 million in a settlement over complaints it dispensed painkillers to nursing homes and other senior care facilities across the country without proper prescriptions or authorization.

The Covington, Ky.-based company's settlement with the Department of Justice is the second-largest civil settlement in history of the Controlled Substances Act, and follows a Drug Enforcement Administration investigation of "alleged errors and deficiencies" in how certain Omnicare pharmacies distributed controlled substances.

"While DEA regulations specifically address retail and hospital pharmacy operations, long-term pharmacies have historically operated in a less defined middle ground, dispensing controlled substances on instructions from long-term care facility staff after the staff's consultation with the ordering authorized prescriber," said Omnicare in a statement about the settlement. "This civil settlement makes it clear that DEA interprets its regulations to require the ordering authorized prescriber to either sign an order containing all of the elements of a valid prescription prior to dispensing, or in limited emergency circumstances for Schedule II controlled substances to speak directly with the pharmacy prior to dispensing."

Omnicare's CEO, John Figueroa, said the pharmaceutical company "understands and accepts" the DEA's efforts to make sure appropriate procedures are followed when distributing drugs. "While requiring authorized prescribers to communicate directly with the pharmacy can potentially cause delay, we have committed ourselves to shortening the time in which nursing home residents receive required medication," he said.
The wrongdoer here isn't Omnicare, which has agreed to pay the settlement immediately in order to continue doing business uninterrupted, but the DEA, which Sen. Herb Kohl accused two years ago of "putting paperwork before pain relief."
To get a sense of how, exactly, the DEA's rules against nurses ordering pain prescriptions affects longterm care residents, take a look at this 2009 testimony from Cheryl Phillips, then president of the American Geriatrics Society:
Mrs. M is an 87 year old female with advanced dementia and a recent hip fracture and subsequent surgery. She has been at the nursing home for the past three days. Prior to her transfer from the hospital her pain meds were decreased because her orthopedic surgeon was worried about confusion. Since then, the family has been concerned that she has been in pain that is not managed with the non-narcotic meds prescribed. On the fourth day of her nursing home stay physical therapists worked "a bit harder" to get her moving more and out of bed. By that evening she was tearful and refusing to eat. When the family arrived they recognized she was in pain and requested something stronger to treat her.

After a call to her attending physician which resulted in an order for morphine sulfate the nurse requested from the pharmacist that she be able to access the emergency drug kit and administer the ordered medication. However, because the physician was not able to provide an after-hours signature the pharmacist said she was not able to release the medication. The family became incensed and threatened to "sue the nursing home." At that point, the nurse called the physician back and the order was given to send the patient, via ambulance, to the emergency room for pain management.
Meanwhile, the legislation that Kohl proposed to reign in the DEA, titled "The Nursing Home Resident Pain Relief Act of 2011," is gathering dust.