Banning Bake Sales: For the Kids!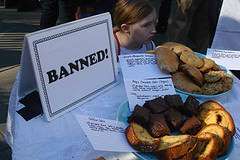 Alexis de Tocqueville in his Democracy in America outlined a truly dystopian vision of how democratic politics could produce a pervasive soft despotism:
Above this race of men stands an immense and tutelary power, which takes upon itself alone to secure their gratifications and to watch over their fate. That power is absolute, minute, regular, provident, and mild. It would be like the authority of a parent if, like that authority, its object was to prepare men for manhood; but it seeks, on the contrary, to keep them in perpetual childhood: it is well content that the people should rejoice, provided they think of nothing but rejoicing. For their happiness such a government willingly labors, but it chooses to be the sole agent and the only arbiter of that happiness; it provides for their security, foresees and supplies their necessities, facilitates their pleasures, manages their principal concerns, directs their industry, regulates the descent of property, and subdivides their inheritances: what remains, but to spare them all the care of thinking and all the trouble of living?…

After having thus successively taken each member of the community in its powerful grasp and fashioned him at will, the supreme power then extends its arm over the whole community. It covers the surface of society with a network of small complicated rules, minute and uniform, through which the most original minds and the most energetic characters cannot penetrate, to rise above the crowd. The will of man is not shattered, but softened, bent, and guided; men are seldom forced by it to act, but they are constantly restrained from acting. Such a power does not destroy, but it prevents existence; it does not tyrannize, but it compresses, enervates, extinguishes, and stupefies a people, till each nation is reduced to nothing better than a flock of timid and industrious animals, of which the government is the shepherd.
The this immense tutelary power is not imposed but is voted into existence by the public. Tocqueville explains:
They devise a sole, tutelary, and all-powerful form of government, but elected by the people. They combine the principle of centralization and that of popular sovereignty; this gives them a respite: they console themselves for being in tutelage by the reflection that they have chosen their own guardians. Every man allows himself to be put in leading-strings, because he sees that it is not a person or a class of persons, but the people at large who hold the end of his chain.

By this system the people shake off their state of dependence just long enough to select their master and then relapse into it again.
What inspires this lengthy quotation from this French observer of 19th century American political and social mores? A proposal to ban bake sales in schools. Why the ban? To keep kids from getting fat. As Bloomberg Businessweek reports:
Public school students in Maryland's Montgomery County know they'd better not even think of holding a bake sale to raise money for the football team or math club. Selling sweets is outlawed during the school day, and officials make the rounds to ensure no illicit cupcakes are changing hands. "If a bake sale is going on, it's reported to administration and it's taken care of," says Marla Caplon of the county's food and nutrition services. "You can't sell Girl Scout cookies, candy, cakes, any of that stuff."

Montgomery is one of a growing number of school districts around the country that have in recent years declared the humble, beloved bake sale a threat to children. Schools in California, Colorado, Hawaii, Mississippi, Nevada, New Mexico, New York, and Texas have regulations aimed at limiting bake sales to nutritious food. Massachusetts will soon join them. Beginning in August, it will prohibit fundraisers that sell non-nutritious foods in school, and take it one step further: Kids will no longer be allowed to hand out sugary cookies—or other treats deemed unhealthy—to classmates on their birthdays.

With so many overweight kids, it's easy to see why schools want to discourage high-calorie snacks. Only, they sometimes have a funny idea of what "nutritious" means. New York City public schools prohibit students from selling unapproved home-baked goods, but allow some packaged, store-bought sweets that meet the schools' restrictions on calories, sugar, salt, and fat. Under the rules, grandma's fresh-from-the oven banana bread can be declared contraband, while some Kellogg (K) Pop Tarts are deemed wholesome. "You know what's allowed? Junk food," says Elizabeth Puccini, a filmmaker in Manhattan whose son is in first grade. "It's a ridiculous regulation and should be overturned."
The U.S. Department of Agriculture is expected to announce its own set of bake sale standards later this year.
As Tim Cavanaugh reported earlier these bans on bake sales are backed by First-Food-Nanny Michelle Obama. Such a ban is just another example of the process identified by Tocqueville of the immense tutelary power "cover[ing] the surface of society with a network of small complicated rules, minute and uniform…."
Immense tutelary power channeling Marie Antoinette: Don't let them eat cake!