Feds to Outlaw Farm Chores for Kids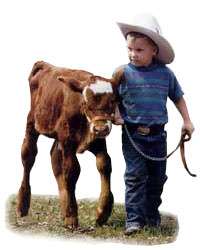 The U.S. Department of Labor is here to help farmers and their families with new regulations on what their kids can do to help around the farm. The proposed rules have provoked in me a little stroll down nostalgia lane.
I grew up on a dairy farm in the mountains of Southwestern Virginia. Helping out the folks was not optional—our house was heated by wood stoves, so a good bit of my summers was spent wielding an axe and stacking cords of wood. Milking cows happened twice a day every day, holidays and weekends not excepted. I carried the milk cans to the big refrigerator for storage until they were picked up by the dairy company trucks. I was sometimes tasked to cut down timber using a chain saw.
I rarely got to drive the tractors since as a teenager with a strong back I was expected to do labor such as hoisting bales of hay onto trailers in the field and off the trailers into the barn's hayloft. I once got chased by a very annoyed sow that was building a nest in which to farrow. I planted, cut, and hung burley tobacco in barns to dry and then graded it for sale. I applied various pesticides and cleaned the equipment afterwards. Over their strenuous objections, I sheared sheep. I mention all these farm chores because while many them were apparently outlawed in 1970, most of the rest will be under the new regulations.
According to the Labor Department press release:
The proposal would strengthen current child labor regulations prohibiting agricultural work with animals and in pesticide handling, timber operations, manure pits and storage bins. It would prohibit farmworkers under age 16 from participating in the cultivation, harvesting and curing of tobacco. And it would prohibit youth in both agricultural and nonagricultural employment from using electronic, including communication, devices while operating power-driven equipment.

The department also is proposing to create a new nonagricultural hazardous occupations order that would prevent children under 18 from being employed in the storing, marketing and transporting of farm product raw materials. Prohibited places of employment would include country grain elevators, grain bins, silos, feed lots, stockyards, livestock exchanges and livestock auctions.

Additionally, the proposal would prohibit farmworkers under 16 from operating almost all power-driven equipment. A similar prohibition has existed as part of the nonagricultural child labor provisions for more than 50 years. A limited exemption would permit some student learners to operate certain farm implements and tractors, when equipped with proper rollover protection structures and seat belts, under specified conditions.
The new rules do explicitly exempt their application to kids working on their parents' farms. But is that so? Farm organizations like the Pennsylvania Farm Bureau object:
Farm Bureau notes that DOL claims its "Notice of Proposed Rulemaking" will not change the "parental exemption" in the current law, but Farm Bureau says DOL's new language would not include an exemption for farms that are incorporated or formed as family partnerships.

"Many farm families in Pennsylvania and across the United States have incorporated or formed a family partnership for estate planning, insurance and other reasons. They are still family farms with moms and dads making the decisions over what work duties their children have been trained to do and are capable of doing in a safe manner. Farmers understand that there are potential dangers on the farm and they abide by existing farm labor laws," added [PFB President Carl T.] Shaffer.

Meanwhile, the proposed regulations could prohibit or seriously limit 4-H and FFA youth enrolled in vocational training in agriculture, or Supervised Agricultural Experience (SAE), from working on farms. Other non-farm youth, such as neighbors, nephews and nieces, would also not be allowed to perform many typical farm tasks under the DOL notice.
Make no mistake, farm work is hard and sometimes dangerous work. But, for comparison, consider that the accidental death rate for the U.S. is 38 per 100,000. According to the most recent data the accidental death rate for folks younger than age 20 has fallen from 15.5 to 11 per 100,000 between 2000 and 2009, largely due to a steep decline in motor vehicle deaths. This figure includes autos, drugs, and work for all Americans under age 20. As it happens, about 113 under-20s die of farm accidents every year, so, counting all 1,030,000 children and teens who live on farms, that would yield an annual death rate of 11 per 100,000.
Considering that there is no apparent agri-death crisis among farm kids, it's hard not to suspect that these regulations have been concocted by urbanite bureaucrats from other motives. Farm labor unionization perhaps?
Hat tip Daily Caller.