After Three Wars, 1.2 Million Deportations, and God Knows How Many Other Broken Promises, Liberals Still Love Obama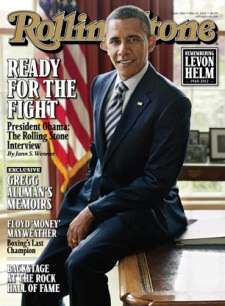 President Barack Obama went on Jimmy Fallon's TV last night and "slow jammed the news," which is like "those bits of Barry White songs where he's talking while the band plays in the background," according to the Christian Science Monitor.
The segment is getting some pretty strong endorsements from the Twittertariat, such as the bro who concluded, "@BarackObama on @jimmyfallon just proved once again he is the coolest president of all time #slowjam."
The coolest president, and a mass murderer and a mass deporter and a lying liar and a fresh-faced authoritarian with a hubbah hubbah bod (hallelujah).
But the sloberring doesn't end there! Forever-child (and Rolling Stone publisher) Jann S. Wenner posted an interview with the president this morning, "the longest and most substantive interview the president has granted in over a year." It was so long, in fact, that Obama pushed back his meeting with Hillary so that Wenner and Rolling Stone executive editor Eric Bates could ask him…
Do you read Paul Krugman?
How embarrassing for Hillary!
Here are some other really deep questions Wenner and Bates asked Rolling Stone's favorite imperialist:
What other TV shows or movies or music have you been enjoying?

You've been in office three years now. What's the world's hardest job like on a day-to-day basis?

Most people, when you ask them to sing in public, get kind of nervous about it – they don't really want to do it. But you got up there at the Apollo Theater and nailed Al Green. What was going through your head when they asked you to do it? Did you know you were going to nail it?

We've talked in the past about how you've met Bob Dylan and Paul McCartney here in the White House. Now you've met Mick Jagger. Tell us a bit about that.

Did you know you were going on to sing "Sweet Home Chicago" that night?

It must help to get a break, though, given how stressful and demanding the job is.
Hunter S. Thompson is shooting himself again, in his grave.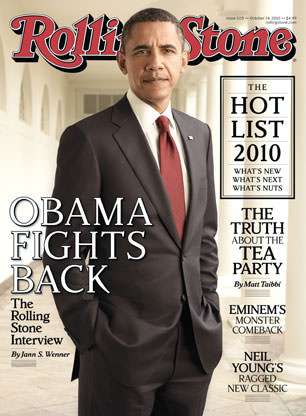 In 2010, Matt Welch perused Wenner's first interview with the president. The questions were maybe (?) a little better:
When you came into office, you felt you would be able to work with the other side. When did you realize that the Republicans had abandoned any real effort to work with you and create bipartisan policy?

How do you feel about the fact that day after day, there's this really destructive attack on whatever you propose? Does that bother you? Has it shocked you?

What do you think the Republican Party stands for today?
Bonus link: At my last job, I tried to get RS veteran P.J. O'Rourke to talk about Wenner's first Obama interview. Here's how that went:
TheDC: Switching gears a bit. I was wondering what your thoughts are on Rolling Stone as of late? What happened to the magazine that you and Hunter S. Thompson wrote for?

P.J.: Oh, it never really existed. Rolling Stone was always basically a fanboy publication. But in fairness, it had some very good editors over the years, including at times Jann Wenner, when he was paying attention. Jann has very good editorial instincts. But he also hired some very good editors over the years. Notably—and I'm fond of him because he first hired me—Terry McDonell, who nows runs Sports Illustrated.

Rolling Stone always liked to punch above its weight, and punch above the weight of its subject matter. And of course that comes right out of the 60s. I remember someone telling me about Jann going around the office in the 60s at the beginning of the magazine and him going, "The music means more than the music does." In point of fact, he was wrong.

TheDC: But it sounds good.

P.J.: That it does.

But I was never interested in the magazine itself. When it stopped publishing people who I thought were interesting writers, when it stopped publishing Thompson and even Greider, who was the least interesting to argue with, I quit paying attention to it.

TheDC: Did you see the Barack Obama cover from 2008? It was the first time the magazine had endorsed a candidate on the cover.

P.J.: I don't think I paid any attention whatsoever.

TheDC: Did you read Wenner's interview with Obama that came out a few weeks ago?

P.J.: Nah.

TheDC: You're totally not interested in talking about this, are you?

P.J.: Totally not interested.
More Wenner hate here, Brian Doherty on the mag's 40th anniversary here, Matt Welch's obit for Hunter S. Thompson here.