Brown and Warren Leave Libertarians in Tough Spot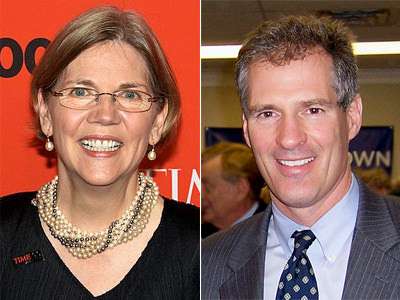 In 2010 Scott Brown shocked the political world when he defeated Attorney General Martha Coakley in a special election to replace the late Ted Kennedy in the U.S. Senate. With that victory Brown became not only the first Republican to represent the Commonwealth in the Senate since Ed Brooke in the 1970s, he became one of the more high profile GOP'ers in the country. Brown's win over Coakley was even more special for Republicans because it came at the peak of the national fight over national health care reform, a longtime goal of Kennedy's.
At the same time, Harvard Law professor Elizabeth Warren was busy building her national profile overseeing the allocation of TARP funds as chairman of the Congressional Oversight Panel. Later in 2010 Warren would help build the foundation for the Consumer Financial Protection Bureau, a new agency mandated by the Dodd-Frank financial reform law. With these high-profile positions under her belt, and already a darling of the left for her attacks on the financial sector and the lending industry, Warren was now the highest profile consumer advocate in the nation since Ralph Nader. When it became clear in the summer of 2011 that she would not become the director of the new bureau, Warren left her D.C. posts and returned to Massachusetts where rumors of a run for U.S. Senate refused to die.
Could this electorally inexperienced consumer advocate successfully break into Massachusetts Democratic politics and then, then!, take on one of the best politicians the Commonwealth has seen in the last 25 years?
Yes, because local and national Democrats were not happy with the field lining up to challenge Brown.
Only a few short months after returning to her home in Cambridge Warren announced her run for Senate and quickly cleared the Democratic field of all potentially serious challengers. Newton Mayor Setti Warren, thought to be a rising star in state politics, quickly bowed out along with philanthropist Alan Khazei. Warren hired two of the most prominent Democratic strategists in the state, Doug Rubin and Kyle Sullivan, both veterans of tough statewide races.
Brown did not appear worried by her entry into the race. He had spent the last two years positioning himself as a moderate and bracing for what he and his aides expected would be a grueling reelection fight. He brought back many of the same people that helped in 2010, particularly Mitt Romney adviser Eric Fehrnstrom.
Yet he also shed the Tea Party support that helped him get elected in 2010 and refashioned himself as the Third Senator from Maine. His voting record backs this up, as Brown tends to break with his party as much as Susan Collins and Olympia Snowe.
Like most incumbents, Brown has a significant fundraising advantage, but Warren's recent fundraising hauls have shown that she can hang with him. Brown announced today that he raised $3.4 million last quarter while Warren has announced only her haul from Massachusetts, just a little over $2.5 million. Both of them have signed onto an agreement that discourages third-party advertising called "The People's Pledge." The pledge has been roundly panned by free speech advocates while embraced by proponents of campaign finance reform. (I called the pledge "hogwash" in a post on my Boston.com blog.)
Most polls since January indicate that the race is close with a slight edge going to Brown and also show both candidates are liked by the public. Several people have pulled papers to run as independents but none of them have significant name recognition or the political organization needed to qualify for the ballot. No Libertarians or Greens have pulled papers either. So with no alternative options available at the ballot box what's a libertarian to do in this race? On one side you have a mostly moderate Republican that loves the drug war and voted for Dodd-Frank. On the other side you have a Democrat that just loves talking about how awesome the social contract is and oversaw the Wall Street bailout. Of course, one can always leave it blank or write-in Big Bird.