Dissenting While Enlisted Will Get You Fired, Dissenting While Commanding Gets You Retired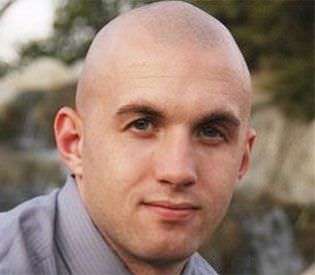 Sergeant Gary Stein enlisted in the Marines right out of high school. After nine years, he's both a few months away from ending his service, and a few weeks away from being discharged under a black cloud. The latter possibility is a result of Stein's colorful politics: He started an Armed Forces Tea Party website, where he's selling NOBAMA 2012 bumper stickers, and he called President Obama "the economic and religious enemy" on Facebook.
After a hearing yesterday, during which Marine lawyers argued that Stein's political expressions were "prejudicial to good order and discipline," a Marine Corps board recommended that Stein immediately be "given an other than honorable discharge"–basically, that he be fired and deprived of whatever benefits he's accumulated over nine years of service and several tours in Iraq.  
Stein's legal team has argued that his political activities were private and did not interfer with his soldiering; and more broadly that members of the military should be free to enjoy the Constitutional rights they have sworn to uphold and protect. Stein's fate is now in the hands of the commanding general of the Marine Corp Recruit Depot in San Diego. 
While Stein's fate is processed, I'd direct your attention to how a similar case was handled two years ago, when another member of the military gained prominence for challening the authority of the commander in chief: 
The outspoken general's military career ended not on the battlefield in Afghanistan but on the political one in Washington after President Obama replaced McChrystal with Gen. David Petraeus in June 2010. McChrystal was allowed to retire as a four-star general.

The general who championed the counterinsurgency doctrine that worked in Iraq received the very rare rebuke of being fired during wartime (the same fate befell his predecessor, Gen. David McKiernan) when President Obama asked him to step aside after he gave an unwise interview to Rolling Stone magazine that badmouthed civilian national-security aides.

McChrystal had also been involved in controversy previously; he was accused of helping to cover up the 2004 friendly-fire killing in Afghanistan of NFL-player and then- Army Ranger Cpl. Pat Tillman.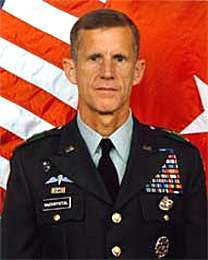 That's from the Washington Post's bio of Gen. Stanley McChrystal. It's a bit skimpy, if you ask me. McChrystal didn't just "badmouth civilian national-security aides," but also Vice President Joe Biden and, indirectly, President Obama. From Rolling Stone: 
Now, flipping through printout cards of his speech in Paris, McChrystal wonders aloud what Biden question he might get today, and how he should respond. "I never know what's going to pop out until I'm up there, that's the problem," he says. Then, unable to help themselves, he and his staff imagine the general dismissing the vice president with a good one-liner. 

"Are you asking about Vice President Biden?" McChrystal says with a laugh. "Who's that?"

"Biden?" suggests a top adviser. "Did you say: Bite Me?"
And this section, about McChrystal's relationship with Obama, couldn't have been written without McChrytal at least relating the anecdotes to his staff: 
Even though he had voted for Obama, McChrystal and his new commander in chief failed from the outset to connect. The general first encountered Obama a week after he took office, when the president met with a dozen senior military officials in a room at the Pentagon known as the Tank. According to sources familiar with the meeting, McChrystal thought Obama looked "uncomfortable and intimidated" by the roomful of military brass. Their first one-on-one meeting took place in the Oval Office four months later, after McChrystal got the Afghanistan job, and it didn't go much better. "It was a 10-minute photo op," says an adviser to McChrystal. "Obama clearly didn't know anything about him, who he was. Here's the guy who's going to run his fucking war, but he didn't seem very engaged. The Boss was pretty disappointed."
Could those remarks be interpreted as "prejudicial to good order and discipline"? I guess that depends on your rank. They were bad enough that Obama told McChrystal to resign or be fired, but they weren't bad enough for McChrystal to be discharged. He got to retire as a four-star general, and presumably keep the massive pension he accumulated over several decades of service. A year after the incident, he was invited back to the White House to help launch "Joining Forces," a program for military families. 
Or perhaps it's apples and oranges. Stein, after all, was only in charge of the rifle ranges at Camp Pendleton, not overseeing one of the country's longest running wars.