Meet Maj. Joseph Floyd, Leading Candidate for Most Crooked Cop in America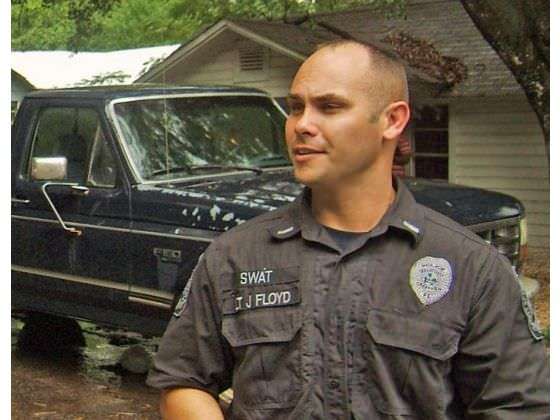 A grand jury indictment unveiled last week accuses a Northwest Florida cop of sexually harassing his colleagues, forcing his subordinates to torture suspects, forge incident reports, and alter their testimony; soliciting sex from residents in his jurisdiction; beating handcuffed suspects and prisoners; intimidating members of the community; and causing a pregnant woman to miscarry when he intentionally rammed the vehicle in which she was traveling. If the allegations against Major Joseph Floyd of the Crestview Police Department are true, he may be the most crooked cop in the country.
Floyd joined the Crestview Police Department in the Florida Panhandle in 2007 after a brief stint with the Sarasota County Sheriff's Office. Unbeknownst to his new colleagues at the time of his hiring, Floyd had a rap sheet that stretched back more than a decade. Over the course of eight years, Floyd was terminated, forced to resign, or quit three police departments while under investigation for insubordination, lying, and falsifying records. Before becoming a cop, Floyd had been arrested for battery, disorderly conduct, and assaulting a law enforcement officer.
In 2007, Floyd was made a lieutenant and put in charge of the Crestview PD's Street Crimes Unit, which investigates vice, drugs, and gangs. According to the grand jury's indictment, which Reason obtained from the office of State Attorney Bill Eddins, Floyd's malpractice began shortly after his hiring and continued right through the grand jury's investigation.
The higlights of the indictment are below:
Allegations of excessive force:

- "On multiple occasions, Floyd or officers acting at his direction used excessive force on person who were not resisting and were in custody, posing no risk to him, other officers, or the public."

- Including, but not limited to "tasing suspects without cause, striking a suspect in the head with an assault rifle, elbowing suspects in the throat and neck and beating a handcuffed suspect."

- Floyd "initiated" one female officer into his unit by ordering her to "tase a suspect without cause, even though Floyd knew, at the time, that she was not certified to use a taser."

- While conducting surveillance during a drug investigation, Floyd rammed his cruiser into the side of a truck that was leaving the scene of a drug sale. The truck was not endangering any of Floyd's men, and Floyd did not have his lights on. The truck flipped over, and its pregnant passenger "who was not involved in the drug transaction…subsequently lost her baby." Floyd then instructed his unit not to report what they saw him do, and instead wait for him to write his report and then "mirror" it.

- Floyd "bragged about his physical abuse of suspects and prisoners" to other officers, and "stated in profane language that he did not care about people's civil rights, that he had beaten a civil rights suit before, and if they wanted to keep their jobs they must do it his way."
Allegations of falsifying testimony and reports:
- Floyd planted drugs on a suspect and then charged him with possession of crack-cocaine.

- He instructed his subordinates to write in their reports that suspects had resisted arrest when they had not.

- Floyd "directed an officer to redact a video recording of a drug buy to remove the sounds of a suspect screaming while being repeatedly tased."
Allegations of sexual harassment and assault:
- Floyd called Crestview's female officers "department sluts" and "department whores."

- He offered "employment opportunities, work assignments, or ride-along opportunities in exchange for sex acts."

- He "fondled a female subordinate against her will."

- He was accused of sexual battery by a woman who refused to press charges out of fear for her safety. When Floyd learned that "the case would not be pursued, he directed a female officer to purchase a Barbie doll and to duct tape the doll's mouth and hands behind her back. Major Floyd placed it in a dish on a buffet line at a city holiday dinner."
Allegations of misusing department resources:
- Floyd used the SWAT team and and assault rifles to "effect the purchase of small quantities of street drugs and arrest the offenders."

- He instructed his subordinates to "target people who were not otherwise disposed to deal in drugs."

- He invited the media to film a "major drug bust" that was in fact a harassment campaign against a candidate for mayor and the candidate's 15-year-old son. The son had sold "small quantities of marijuana" to an under-cover officer on three separate occasions, and his father had promised, if elected, to fire Clearview Chief Brian Mitchell and Floyd.

- Floyd invited the media to film interrogations, and once "forcibly held a suspect's head up by the throat and hair to allow a publicity photo to be taken of the suspect and himself."

- Floyd instructed his subordinates to investigate "public employees of other departments of the City of Crestview."

- Floyd's unit "used city time and funds to travel to and maintain a camper for their use at a campground in Holt, an area over which the officers had no jurisdiction."
Allegations of intimidation of other officers:
- "If officers refused to follow Floyd's directives, they were threatened with termination, demotion, reassignment, and even isolation from other officers."

- Floyd demanded that officers in his unit "report to Floyd about the activities of officers who were not loyal to Floyd."

- Floyd taunted officers who disagreed with him by bragging about his relationship with chief of police Brian Mitchell.

- In 2010, a local business owner filed a civil rights suit against Floyd for harassing and assaulting him. Officers who were deposed in the suit were pressured to lie. Of those who refused to alter their testimony, once has since resigned, one was fired, and two have "been repeatedly harassed and slandered" by Floyd.
- The harassment continued throughout the current grand jury investigation.
In a statement to the Crestview News Bulletin, Floyd said, "The fact is I'm innocent until proven guilty. Now I know what they say I did and now I can prove the truth in my defense." You can read the full indictment here.