New Mexico Cop on Paid Leave While Being Investigated for Raping Sex Workers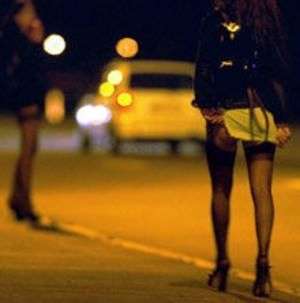 A New Mexico state trooper is on paid administrative leave after being arrested last week for coercing prostitutes to have sex with him. Timothy Carlson first came to the attention of the Albquerque PD vice squad last spring, when they caught him in his car with a prostitute. According to KRQL13, Carlson had his gun and badge on him when he was stopped last year. Why he wasn't arrested then is a mystery, though the stop did prove to be the start of a nearly year-long investigation: 
Investigators followed Carlson and in one incident they say the agent allegedly hi-jacked another man's date with a prostitute.

The prostitute turned out to be a confidential informant for APD. She told police Carlson pulled her and the John over last month, wearing his badge and displaying his gun. She says Carlson told the John to leave and offered her a ride home.

She says Carlson threatened to arrest her if she didn't sleep with him.

Carlson picked up the same prostitute Friday night, and that's when he was arrested.

He's now on paid administrative leave pending an internal investigation by the Department of Public Safety.

He faces extortion, bribery, public corruption and rape charges.
Advocates of decriminalizing prositution often point out that sex workers suffer appalling violence and extortion at the hands of their managers and clients. We should add "law enforcement officers" to the list of risks sex workers face, and not just because of Carlson. 
A Raleigh police officer accused of having sex with an underage prostitute made an initial appearance in court Friday.

Jason Brandon Hoyle, 34, of the 8600 block of Maryel Way in Raleigh, is charged with promoting prostitution of a minor and participating in the prostitution of a minor. He is free on $100,000

Hoyle is accused of paying a 17-year-old prostitute $140 for sex at the Fairfield Inn by Marriott on Cedar Creek Road on Feb. 7.

Police allege the girl stole a Raleigh police-owned laptop computer, an Apple iPhone 4 and $800 after the encounter. She has been charged with solicitation for prostitution, larceny and possessing stolen property.
(Note that the minor is also being prosecuted.) 
Police reports from an internal investigation of convicted rapist and disgraced ex-cop Anthony Rollins paint the picture of a sex fiend who prowled for women long before he was taken off duty and arrested.

The reports come from the Anchorage Police Department's files on Rollins and were filed in court Friday by a lawyer for women suing the 13-year veteran officer and the city that employed him. The lawsuits say Rollins' employers should have known he posed a threat to women after catching him having sex while on duty.

Christine Schleuss, a lawyer for five of the nine women, is seeking more information from the internal investigation reports because the summaries provided to her are incomplete, she said in the Friday filing.
A former Bakersfield police officer has been arrested for allegedly having sex with prostitutes while on duty.

Albert Smith Jr. resigned Tuesday and was arrested Friday on a warrant charging him with seven counts of engaging in acts of prostitution, according to police.

"For the police department, and everybody involved down here, this is very disappointing," Bakersfield Police Department Chief Greg Williamson said.
This item only made it into the Washington Times' briefs. The short story had these details: Colin Hatch, a 23-year-old Capitol Heights church deacon gets sentenced to 14 years in prison for sexually assaulting a DC prostitute at gunpoint.

Pretty bad. Here's what they left out: Hatch was two weeks from taking a new job as a Baltimore City Police Officer. And his method of assault was particularly horrific.

According to a sentencing memorandum released by the D.C. U.S. Attorney's Office, Hatch picked up his victim one night last November, near the intersection of 10th and K Streets NW. She got in his car, they agreed on a price ($100, for sex) and drove somewhere more private. The victim told police Hatch seemed like a nice guy at first. But when she climbed into the back seat, he turned mean. He pulled out a gun and demanded oral sex. From the memorandum:

"Once he became erect, the defendant forced [the victim] to engage in vaginal sex. During the course of the sexual assault, the defendant lost his erection and forced [the victim] to perform oral sex on him a second time so that he could regain his erection."
George Washington University Professor Ron Weitzer made the case for legalizing sex work in Reason last year.