Don't Panic Over Global Warming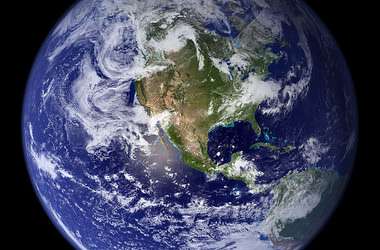 That's the message in a Wall Street Journal op/ed today signed by sixteen prominent scientists. The scientists note that warming has been less than predicted by climate models:
Perhaps the most inconvenient fact is the lack of global warming for well over 10 years now. This is known to the warming establishment, as one can see from the 2009 "Climategate" email of climate scientist Kevin Trenberth: "The fact is that we can't account for the lack of warming at the moment and it is a travesty that we can't." But the warming is only missing if one believes computer models where so-called feedbacks involving water vapor and clouds greatly amplify the small effect of CO2.

The lack of warming for more than a decade—indeed, the smaller-than-predicted warming over the 22 years since the U.N.'s Intergovernmental Panel on Climate Change (IPCC) began issuing projections—suggests that computer models have greatly exaggerated how much warming additional CO2 can cause.
For some background on global temperature trends, University of Alabama in Huntsville climatologists John Christy and Roy Spencer did an analysis in December, 2011 of 33 years of satellite temperature data and report:
Globally averaged, Earth's atmosphere has warmed about 0.45 Celsius (about 0.82° F) during the almost one-third of a century that sensors aboard NOAA and NASA satellites have measured the temperature of oxygen molecules in the air.

This is at the lower end of computer model projections of how much the atmosphere should have warmed due to the effects of extra greenhouse gases since the first Microwave Sounding Unit (MSU) went into service in Earth orbit in late November 1978, according to satellite data processed and archived at UAHuntsville's ESSC.

"While 0.45 degrees C of warming is noticeable in climate terms, it isn't obvious that it represents an impending disaster," said Christy. "The climate models produce some aspects of the weather reasonably well, but they have yet to demonstrate an ability to confidently predict climate change in upper air temperatures."…

"Part of the upward trend is due to low temperatures early in the satellite record caused by a pair of major volcanic eruptions," Christy said. "Because those eruptions pull temperatures down in the first part of the record, they tilt the trend upward later in the record."

Christy and other UAHuntsville scientists have calculated the cooling effect caused by the eruptions of Mexico's El Chichon volcano in 1982 and the Mt. Pinatubo volcano in the Philippines in 1991. When that cooling is subtracted, the long-term warming effect is reduced to 0.09 C (0.16° F) per decade, well below computer model estimates of how much global warming should have occurred.
Since warming is not proceeding as forecasted by the climate models, the scientists writing in the Journal conclude:
Speaking for many scientists and engineers who have looked carefully and independently at the science of climate, we have a message to any candidate for public office: There is no compelling scientific argument for drastic action to "decarbonize" the world's economy. Even if one accepts the inflated climate forecasts of the IPCC, aggressive greenhouse-gas control policies are not justified economically.

A recent study of a wide variety of policy options by Yale economist William Nordhaus showed that nearly the highest benefit-to-cost ratio is achieved for a policy that allows 50 more years of economic growth unimpeded by greenhouse gas controls. This would be especially beneficial to the less-developed parts of the world that would like to share some of the same advantages of material well-being, health and life expectancy that the fully developed parts of the world enjoy now. Many other policy responses would have a negative return on investment. And it is likely that more CO2 and the modest warming that may come with it will be an overall benefit to the planet.
The whole WSJ op/ed is well worth reading.
For more background, see also my recent column, Weathering Man-Made Climate Change which concludes with these observations:
…between 1970 and 2008, 95 percent of deaths from natural disasters occurred in developing countries. Bad weather produces death and destruction largely when it encounters poverty….
First, recent research indicates that man-made climate change has not been nor is it likely to be a big contributor to losses stemming from weather disasters in the next few decades. Second, boosting the wealth of poor people through economic growth is their best protection against meteorological disasters in the long run, whether fueled by future man-made climate change or not.
And also my 2009 column, Is Government Action Worse Than Global Warming? Short answer: Yes.