High-Speed Rail Scorecard: Bees = 1, Dead = 1, "Emerging" Business = 1, Public Private Partnership = 1, Political Turbulence = 1. Californians = 0.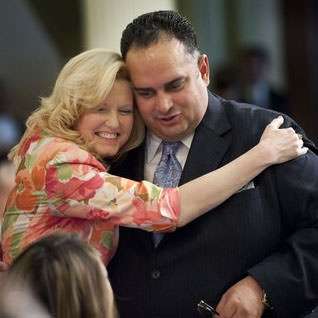 A California state politician has written a masterpiece.
Assemblymember Cathleen Galgiani (D-Stockton) was only seeking fame as one of the admitted authors of Proposition 1A, a popular referendum authorizing the sale of $9.95 billion in public bonds for the Golden State's high-speed rail concept. In the November 2008 election, some 6.7 million California voters – who at the time believed or pretended to believe that the cost of a high-speed rail network connecting Sacramento, San Francisco, San Jose, Los Angeles and San Diego would total $41 billion – voted for Prop 1A, enough to score 53 percent of the total vote count. (The total cost estimate of the project has since increased to $98.5 billion.)
But with her statement on the management chaos at the California High-Speed Rail authority, Gagliani has outdone herself. Let's just say clocking in under 300 words isn't the only thing this speech has in common with the Gettysburg Address:
We have always known there would be challenging circumstances building the nation's first high-speed Rail system, particularly when it requires being sensitive and responsive to diverse communities, with varying needs along the entire 800 mile stretch of the project all at once. Mr. Van Ark and Mr. Umberg have worked with stakeholders to address everything from whether "wind speed" from the train will affect bee pollination in agricultural areas, the importance of respecting sacred sites and Native American burial grounds near the Grapevine, the value we place on involving small emerging business enterprises during the engineering and construction contracting process, building the first public private partnership of this scope in California, and navigating the political turbulence associated with building the nation's first High–Speed Rail system. I have deep respect and owe my deepest gratitude to both Mr. Van Ark and Mr. Umberg…

Today represents a turning point for the Governor to put his stamp on the project. I am pleased that his long-trusted Advisor, Dan Richard, has been chosen to succeed Chair Umberg, and I am confident that Governor Brown will put his full resources behind the success of High Speed Rail. I remain committed to working with Governor Brown, and Chair Richard to move this project forward and put California's economy on a fast-track to recovery with "high speed jobs."
Note that the list of stakeholders and diverse communities contains flora and fauna of many different cultural heritages. But the following words never rear their ugly heads: Californians, taxpayer, citizen, owner, resident, farm, home, rights, traffic, cost, price, recession, save.
Note also that the $10 billion in bonds have not been sold yet, and the state government has broad discretion in choosing whether and when to take on voter-approved debt. The project's official cost estimate has more than doubled in a mere three years – an increase not explicable by any known economic data. (And it says here that $100 billion price is still an extreme lowball based on very sparse information.)
It's time for Gov. Jerry Brown to make the kind of bold move he made on redevelopment agencies. Removing the chaos of California High Speed Rail from the state's political and budgeting process is the honorable move.