Maker of Twinkies, Wonder Bread Going Bankrupt; Ho-Hos Will Work the Streets for Cash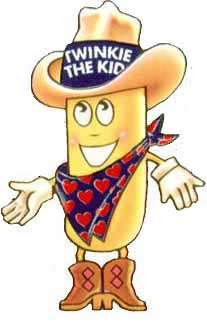 Is it a market failure or a market success that Hostess Brands, maker of such well-remembered but apparently little-purchased commestibles as Twinkies, Suzy-Qs, and Ho-Hos, wants to declare bankruptcy to restructure its business and dodge its creditors? Will the streets run red with cherry fruit pie filling? In its Chapter 11 filing, the Texas-based company lists assets of between $500 million and $1 billion, debt of $1 billion, and annual sales of about $2 billion. It employs 19,000 people.
If Twinkie the Kid and the rest of his posse are looking for a culprit, they might pull the trigger on changed eating habits:
Last year, 36% of Americans ate white bread in their homes, down from 54% in 2000, according to NPD Group. Meanwhile, about 54% ate wheat bread, up from 43% in 2000.

Consumption of healthy snacks is growing, too. About 32% of Americans ate yogurt at least once in two weeks in 2011, for instance, up from 18% in 2000.

"We're less likely to be snacking on items that we shouldn't be snacking on," said Harry Balzer, chief industry analyst for The NPD Group, a consumer marketing research firm.
I'm not sure I'm buying that argument in its totality, but there's no question that sliced white bread, especially Wonder Bread, went from being the staff of life for upward-striving post-War middle-classers to being a cultural touchstone for all that was bad and wrong with America. Whether we're buying less of the stuff - or feel less in need of the myriad ways it supposedly enriches our bodies - I don't know. But there seems less a role for white bread in a world where even the Olive Garden is pushing rustic loaves of yeast and flour.
Catch a sugar-rush flashback with this 1972 commercial selling the sweet, sweet snacks of Hostess as a way to shut up the whining kids who are now holding the company's paper: