Aussie Gov't to Citizens: You Are So Fat, We Sank to the Bottom of the Map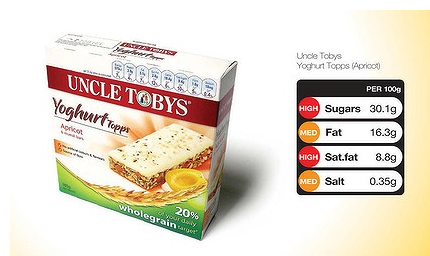 The Australian government is expected to endorse a new food labeling scheme this week, which would use traffic light colors (or something similar) to tell consumers which foods are bad for them.
The new labels, which would appear on the front of food packages, would raise a red (or amber) flag on foods with high fat, sugar, and salt. They essentially codify a version of the halo effect, where certain foods are deemed "good" or "healthy" regardless of conditions or actual facts.
The problem is that lots of high sugar foods—such as raisins—or high fat foods—such as nuts—are perfectly reasonable healthy snacks when consumed in moderation. Meanwhile, a red light on the front of a bag of potato chips is unlikely to be breaking news to anyone.
Kate Carnell of the Australian Food and Grocery Council explains:
A bottle of full-sugar cola soft drink scores three green lights (saturated fat, fat and salt) and one red light for sugar, while a bottle of milk gets three ambers (fat, saturated fat and sugar) and one green light for salt. Using traffic lights, the soft drink appears to be a healthier option, which of course is wrong.
Bonus: Check out this story about the "dilemmatic" condition of kids Down Under.