The "Ice Cream of the Future" Goes the Way of Solyndra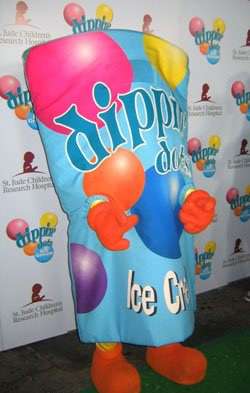 Kentucky-based Dippin' Dots filed for bankruptcy this morning, according to the Wall Street Journal:
Dippin' Dots Inc., the self-described "ice cream of the future," filed for Chapter 11 bankruptcy protection Thursday in U.S. Bankruptcy Court in Paducah, Ky., near its headquarters, after fighting off foreclosure efforts from Regions Bank for more than a year, according to court documents. At the time of the filing, the company owed about $11.1 million to the bank.

Company executives immediately asked for court permission to spend some of the cash collateral that secures the Regions Bank loan—a move to enable it to continue operating throughout the case.

The company "has no alternative borrowing source and to remain in business, the [company] must be permitted to use the cash proceeds described herein to pay general operating overhead and administrative expenses," its attorneys said in court documents.
Founded in 1987, the company became what it claimed simply by lasting as long as it did. In a recent interview with The Atlantic, founder and CEO Curt Jones said Dippin' Dots was preparing to expand beyond the Interstate rest stop/sporting venue market:
"Bartenders don't like to make blended drinks because it takes too long," Jones

said."We created a product called Island Rox. It's a bead with a margarita or daiquiri flavor. If you add beads to tequila, and it's a margarita or daiquiri." After two years of development, Island Rox is launching in five Nashville bars this year.

The research and development offices in Paducah have been buzzing for the last few years. Jones' preview of future innovations include: a "magic shell" ice cream topping made from a cluster of free-rolling beads glued together "like a piece of popcorn"; frozen beads of high-protein supplements for smoothies; and a yogurt bead with a frozen blueberry and granola inside it.

Jones hopes this surge in pelletized creativity helps the company recapture its mid-90s giddiness. But he knows that he's done alright with for a microbiologist with a penchant for ice cream. "We started this thing in my garage," he said. "Once again, we're ready to launch things."
Related, via Lucy Steigerwald: "Time Traveler: Everyone In The Future Eats Dippin' Dots"