Attn, NYC Area Reasonoids: Matt Welch, Nick Gillespie Keynote Students for Liberty Conference, Sat. 10/22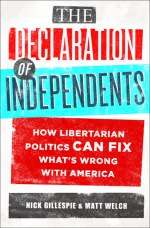 Matt Welch and I will be keynoting the Students for Liberty regional conference this Saturday at Columbia University (formerly King's College and a football powerhouse).
We'll be talking about our book The Declaration of Independents: How Libertarian Politics Can Fix What's Wrong With America (buy it now for just $15.28 hardcover/$9.99 Kindle at Amazon or for similar prices/formats at Barnes & Noble online). We'll be joined by other great speakers such as Tom Palmer of the Atlas Economic Research Foundation and Gene Epstein of Barron's.
Matt and my presentation starts at 1.45pm.
The conference, which starts at 9.30am and runs until 8.30pm, is free and open to the public. For more information, including a full list of speakers and panels, check out the Students for Liberty site now.
Here's Matt Welch and me getting interviewed by at San Francisco's Commonwealth Club by the Chronicle's Joe Garofoli: