The Vice Guide to Belfast, Featuring Michael ni Moynihan & The Least Adorable Little People Since Darby O'Gill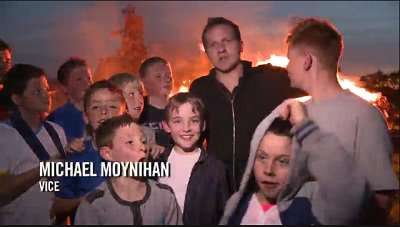 Over the summer, former Reasoner Michael C. Moynihan traveled to Belfast to film the Vice Guide to Belfast, a four-part series of the epicenter of "the Troubles."
Click on the image to the right (that's Moynihan in the black zipper jacket) to see just what made the little Irish kids so happy. Hint: They're Prots and it's marching season!
Here's part of the writeup:
In Belfast, you either allow various factions to spin you in exchange for access or you return home with nothing—and every person, regardless of confessional affiliation, bombards you with his or her narrow version of "the truth." This is, of course, expected. But Catholics and Protestants appear to be working off the exact same script: We're second-class citizens who get stiffed by the politicians, the private sector, the shriveling welfare state, and our masters in London. All denounce the terrorist tactics of their enemies, while offering convoluted defenses of the terrorism perpetuated by their friends. When cameras and tape recorders are switched off, the balaclava falls and the discussions of "culture" and trampled rights make way for the more unambiguous denunciations of fucking taigs (Catholics) and fucking huns (Protestants).
Watch the whole series here. It's a disturbing and often darkly comic tour into the heart of a conflict that is neither as religious as commonly reported nor as intractable as commonly supposed. If like Moyhihan, me, 12 percent of Americans, and too many of the Reason staff if you ask me, you have some Irish in you, you'll thank yer Protestant or Catholic or Jewish god that your ancestors got the hell out of the Emerald Island when they did.