October-November Dates for Matt Welch-Nick Gillespie Declaration of Independents Tour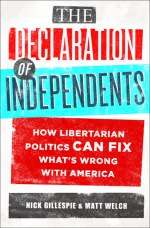 Matt Welch and I, co-authors of the widely praised The Declaration of Independents: How Libertarian Politics Can Fix What's Wrong With America, will be speaking at a number of colleges and conferences over the coming months.
Here's a rundown of events and locations, including next Saturday's hoo-hah in the City of Brotherly Love:
Saturday, October 8: Students for Liberty Regional Conference, Drexel University, Phildelphia, Pennsylvania.
We're giving the evening keynote address. For more information, go here.
Monday, October 10: Hampden-Sydney College, Hampden-Sydney, Virginia.
We're speaking at 7.30PM at the Crowley Forum. For more information, go here.
Wednesay, October 12: Bastiat Society, Charleston, South Carolina.
For more information, go here.
Tuesday, October 18: Yale Political Union, New Haven, Connecticut.
Nick Gillespie debating smoking and other nanny-state bans. For more information, go here.
Saturday, October 22: Students for Liberty Regional Conference, Columbia University, New York City.
We're giving the afternoon keynote talk. For more information, go here.
Tuesday, November 15: Boston University, Boston, Massachusetts.
Talk by Nick Gillespie sponsored by Liberty at Boston University (where Reason magazine was founded in 1968!) at 4.30PM. For more info, go here.
Order our book at Amazon.com for just $15.28 in hardcover and $11.50 on Kindle; order at Barnes & Noble in hardcover and Nook for around the same.
Here's what George Will had to say about the tome in a column published during the dog days of the country's second consecutive recovery summer:
Autodidacts […] should spill sand on the pages of "The Declaration of Independents: How Libertarian Politics Can Fix What's Wrong With America" by Nick Gillespie and Matt Welch. These incurably upbeat journalists with Reason magazine believe that not even government, try as it will, can prevent onrushing social improvement.
Here's what the book blogger Portland Aristotle had to say after catching our show in the City of Roses' great bookstore Powell's:
I am still trying to digest everything that I have learned from their presentation and having read their book. I absolutely love original thinking and strongly recommend their book to anyone out there trying to understand where our politics is taking us.
And here's E.D. Kain writing in Forbes:
It's a good book, a well-written, easily accessible manifesto on how libertarian ideas and anti-authoritarianism can help change the world, and how they will one way or another, whether we like it or not. Just as importantly, the book is uplifting, optimistic and full of energy. This is no pessimistic rant about how awful the "other guy" is – its a cheerful dismissal of tribalism and monopolistic thinking, in life and in politics. Nor is it merely a stab at the state – the old dinosaurs of corporate America face the same dismal looking future, and only manage to hang on to their advantage through state protection to begin with.
Oh yeah, and here's what some viewers of Real Time With Bill Maher said after I ran through some of arguments on that excellent show earlier this summer and argued against bank bailouts, restrictions on immigration, the drug war and in favor of smaller government, freedom of speech (even for corporations), and equal standing under the law for gays and lesbians:
Hey, @nickgillespie just bc you look like the Fonze with Aids doesn't mean you can ramble on like a fag

U stupid undercover Tea bagging fuck!

#SuperDouche @nickgillespie on Real Time with Bill Maher wearing his fake Ed Hardy shirt and Pimp jacket. What a tool!

@nickgillespie What was it like to get your ass pounded by Donna Brazile and Mayor Fetterman? For a PhD you're awfully ignorant and wrong.

Thx @nickgillespie for showing us that Libertarians can interrupt, roll eyes, and fling racist remarks W/O gov't intervention.
All these comments and more can be checked out at our website for the book.
Watch the Maher appearance, where I was joined by political consultant Donna Brazile, Braddock (Pa.) Mayor John Fetterman, and actor John Turturro: