Reason's Brian Doherty Wins Thomas S. Szasz Award for Outstanding Contributions to the Cause of Civil Liberties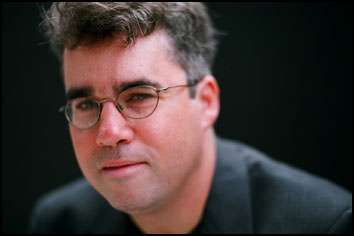 I am pleased to announce that beloved Reason Senior Editor Brian Doherty has won the prestigious and well-deserved Thomas S. Szasz Award, named after one of the world's true heroes of freedom. Here's the write-up from the Center for Independent Thought, which administers the award:
Journalist Brian Doherty and psychiatry professor Henry (Zvi) Lothane have been named recipients of the 2011 Thomas S. Szasz Award for Outstanding Contributions to the Cause of Civil Liberties. Doherty, a senior editor at Reason magazine, won the award in the general category. Lothane, Clinical Professor at Mount Sinai School of Medicine in New York, won in the professional category.

The Szasz Award, named for the prominent opponent of psychiatric coercion and other forms of oppression in the name of health, is a tribute conferred annually on persons or organizations, American or foreign, judged to have significantly advanced the cause of civil liberty. The award is intended to encourage civil libertarians to persevere in the battle to protect personal autonomy from state encroachment. The General Award is given to an author or activist who has done exceptional work to advance and popularize the importance of civil liberties. […]

Doherty is the author of many articles and book reviews in support of civil liberties and the work of Szasz in particular. His acclaimed book Radicals for Capitalism: A Freewheeling History of the Modern American Libertarian Movement features an 11-page discussion of the importance of Szasz's work to the cause of individual liberty, autonomy, and dignity. He is also the author of This Is Burning Man and Gun Control on Trial.
Doherty (read his Reason archive here) joins such distinguished past winners as Nat Hentoff, Richard Epstein, Rep. Ron Paul (R-Texas), and our own Jacob Sullum. Speaking of Ron Paul, that's why you haven't seen Brian around here much lately–he's working on a major biography of the man and his movement, with the reported (and awesome) title of Traitor in the Empire of Lies: Ron Paul's Revolution…but the actual working title (according to Doherty's update in the comments) of Gold, Peace, and Freedom: The Ron Paul Revolution and the Future of American Politics.
Reason's voluminous archive on Thomas Szasz here. Congratulations, Brian!