A Debt Deal Dissenter Explains His Vote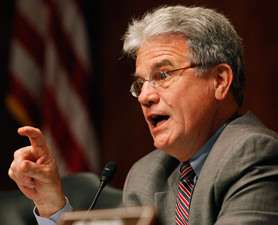 Here's why Sen. Tom Coburn (R-Ok) voted against the deal to raise the debt limit:
In spite of what politicians on both sides are saying, this agreement does not cut any spending over 10 years. In fact, it increases discretionary spending by $830?billion.

I voted against this agreement because it does nothing to address the real drivers of our debt. It eliminates no program, consolidates no duplicative programs, cuts no tax earmarks and reforms no entitlement program. The specter of default or a credit downgrade will still hang over our economy after this deal becomes law.

Politicians on both sides are misleading the country by calling a slowdown in the growth rate of new spending a "cut." Spending will increase at a time when real cuts are necessary to make us live within our means, repair our economy and preserve our credit rating.

It is true that next year there will be a genuine cut of $7?billion when discretionary spending drops from $1.05?trillion to $1.043?trillion. But with our government borrowing $4.5?billion a day, that $7?billion is enough to fund the government for about 36 hours. And after our day and a half of restraint, spending will increase $830?billion over 10 years.

Supporters say the real savings will come when the joint committee the deal empowers makes recommendations to reduce the deficit by at least $1.2?trillion (as we increase the debt limit by the same amount). But the enforcement mechanism designed to force these hard decisions — across-the-board cuts to defense and nondefense programs — will never work. Congress will easily evade these caps. In the Senate, all it will take is 60 votes — the threshold for passing anything. Some have complained about defense cuts, but everyone in Washington knows those cuts can be avoided through supplemental or "emergency" spending bills.
Coburn was one of two Republicans to vote in favor of the deficit reduction package put forth by President Obama's fiscal commission, as well as the bipartisan Gang of Six, which put forth its own proposal in the final weeks of the debt limit showdown. He's also the author of a much larger deficit-reduction package—the "Back in Black" plan that would've reduced the debt by $9 trillion over the next decade.