ATTN DC Reasonoids! Join Nick Gillespie & Matt Welch at Politics & Prose Tuesday July 19 at 7pm for a Discussion of The Declaration of Independents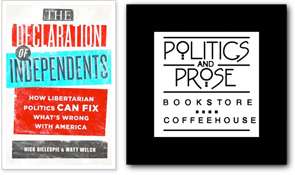 Nick Gillespie and Matt Welch will discuss their new book, The Declaration of Independents: How Libertarian Politics Can Fix What's Wrong With America, at DC's Politics and Prose bookstore on Tuesday, July 19 at 7pm.
The book has already been hailed as "the up-to-date statement of libertarianism" (Tyler Cowen, Marginal Revolution) and "an enthusiastic, entertaining libertarian critique of American politics" (Kirkus Reviews). Celebrating the commercial and cultural innovations of the past 40 years that have made our lives better, The Declaration of Independents puts the pursuit of happiness at the center of a 21st-century American dream while providing an idealistic yet pragmatic blueprint for a country that is tired of debt, recession, and war. Go to Declaration2011.com to order a copy from your favorite online bookstore today, or buy a copy at the event and have it autographed by the authors.
What: Declaration of Independents discussion and signing with Nick Gillespie & Matt Welch
Where: Politics and Prose bookstore, located at 5015 Connecticut Ave. NW. Go here for directions.
When: Tuesday, July 19 at 7pm
Go here for more information about this event.
Please direct all event-related inquiries to Politics and Prose Events Coordinator Mike Giarratano at events@politics-prose.com.