UPDATE: Weiner admits to it all, says he won't resign! Probably About Time to Say Goodbye to Rep. Anthony Weiner (D-N.Y.)
Update: Weiner is talking live right now, admitting all, but saying that he sees no reason to resign:
http://www.cbsnews.com/video/watch/?id=1n&tag=watchnow
Here's a link to a CBS recap of the live interview: http://www.cbsnews.com/8301-503544_162-20069435-503544.html?tag=breakingnews
Question to readers: Assuming he's correct that he broke no laws nor ethical code for House members, do you think Weiner should resign?
Plus: the screencap no representative (or their significant other) wants to see: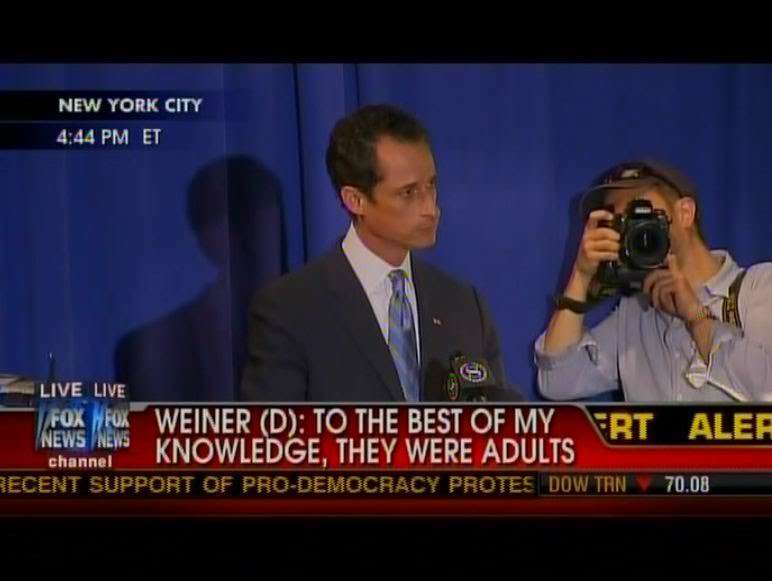 Original post from earlier today:
We've been largely silent here at Hit & Run about "Weinergate," a.k.a. "the Battle of the Bulge," etc. Mostly because on the scale of things, this seems to rank relatively low, even as it showcases a monumental lack of discretion on the part of a sitting, squatting, or otherwise reclining congressman.
The folks over at Andrew Breitbart's Big Government are releasing pics today of Anthony Weiner allegedly sent to "a young woman" (not clear what that means exactly) that likely spell doom for the New Yorker. Here's a shot that once seen cannot be unseen. And is gonna be damn tough to explain away after Weiner's hole-ridden defense of the first underwear pic.
More at Big Government.
I discussed what RT was calling "Weiner Fever" last week on The Alyona Show. I don't know that Weiner Fever is contagious, and I'm also equally unsure whether a cure is possible. But I do stand up for the MSM in what follows: