Attn. DC Reasonoids! Come to Our DC HQ on March 31st at 8:30pm to Watch an Episode of Stossel That's Chock-Full of Students For Liberty!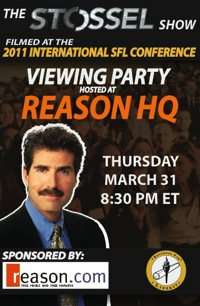 Join Reason and Students For Liberty on Thursday, March 31st to watch the episode of Stossel that was filmed at the 2011 International Students For Liberty Conference.
We will be gathering at 8:30pm at our DC HQ for drinks and light refreshments. The show begins at 10pm. Space is limited and registration is required.
What: Stossel Viewing Party
When: Thursday, March 31st from 8:30pm—11pm
Where: Reason's DC HQ at 1747 Connecticut Ave. NW
Register: http://www.tfaforms.com/196388
We are excited that the student liberty movement will be showcased on Fox Business Network, and we hope you can join us in celebration!
Encourage friends and family to tune in to the show, airing at both 10pm and 1am ET!