Kathleen Sebelius, Tooth Spy?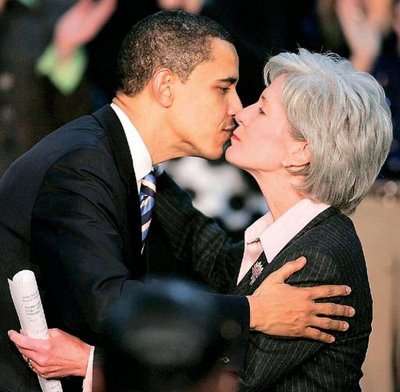 Not quite. But last year's health care overhaul does give Obama's Health and Human Services Secretary the power to oversee the development of "tooth-level surveillance." Yes, really. Former HHS Secretary Michael Leavitt explains:
The rapid and relentless rise in health expenditures as a percentage of gross domestic product is well known. Health-care expenditures have grown from 4 percent of our economy when I was born to more than 16 percent of the economy when my first grandchild was born, and they are still climbing. Not only will these expanding costs jeopardize our economic future, they also will prevent us from properly investing in education, infrastructure, technology, defense and other vital interests.

So how do we reverse this destructive path? It is not by expanding an unelected administrative bureaucracy and granting unprecedented powers to a single person. But that is exactly what the health-reform law does.

Examples of that astounding power include tooth-level surveillance. That's right. Section 4102 of the health-reform law says, "The secretary shall develop oral healthcare components that shall include tooth-level surveillance." It defines tooth-level surveillance as a clinical examination in which an examiner looks at each dental surface, on each tooth in the mouth.

This determination is better done by a dentist.
Or possibly even the tooth fairy.