U.S. Military Aid to Egypt Still Flowing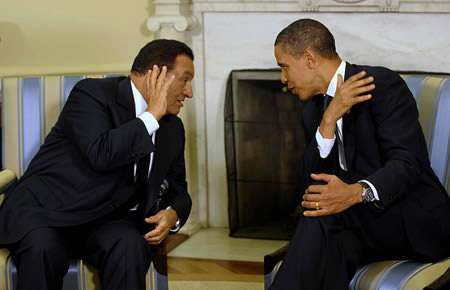 As Egypt was temporarily knocked out of the headlines of American papers yesterday, Tahrir Square saw the largest crowds since the unrest began two weeks ago, with potentially larger protests scheduled for Friday. Doubts about Omar Suleiman's committment to true reform have been leaking out of the Obama administration, and some are calling the official negotations "a regime tactic to co-opt the more moderate opposition parties, while leaving the youth protesters out in the cold." Even the Egyptian military, which the Obama administration has been counting on to lead the transition and was welcomed by the protesting masses early on, has now been accused of torturing protestors.
And yet, with Egyptian protestors literally sleeping under the treads of tanks, the flow of U.S. military aid to the regime shows no signs of letting up. Earlier in the crisis there were signs that Congress would oppose the administration's requests for continued aid, but no longer, as the Los Angeles Times reports:
Sen. John McCain (R-Ariz.) had earlier said "all options are on the table," including aid cuts. But in an interview Tuesday, he said that now "is just not the right time to threaten that."

McCain said he was concerned that a reduction in aid might affect Egypt's willingness to cooperate with Israel.

Sen. Patrick J. Leahy (D-Vt.), chairman of the Senate subcommittee that oversees foreign aid, declared last week that he would not vote for aid to Egypt, adding that he knew no lawmaker who would.

This week, however, Leahy appeared to soften his position, saying through a spokesman that he would oppose any new aid "until the situation is resolved."

White House officials said earlier in the crisis that they would review the aid if the Mubarak government didn't move promptly toward political reform. But within a few days, officials clarified that they weren't considering cuts to aid.