Olbermann Ouster Open Thread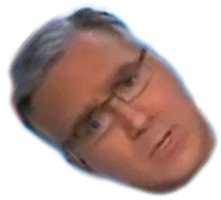 As you have no doubt heard by now, TV talk personality Keith Olbermann is leaving his MSNBC show Countdown.
Olbermann said in his last show that over the last two years, "all that surrounded the show — but never the show itself — was just too much for me." MSNBC tried without success to suspend Olbermann a few months ago for failing to participate in the collective lie of objective journalism. In a statement, MSNBC did not give any reasons for pulling the plug, while prospective NBC owner Comcast said it had not influenced the decision.
New York Times media columnist Bill Carter says, without any supporting evidence, that the popularity of Rachel Maddow made NBC executives "less concerned about losing Mr. Olbermann as the signature star of the network."
I am happy to say I have no opinion whatsoever about Keith Olbermann. So talk among yourselves. You can also enjoy one last wistful glance at the talk host's passionate intensity…
…and a tribute Reason TV put together during his abortive suspension…
As always, best wishes to all concerned.