If Someone Is Going to Come Between Me and My Daughters, I Insist That It Be the Government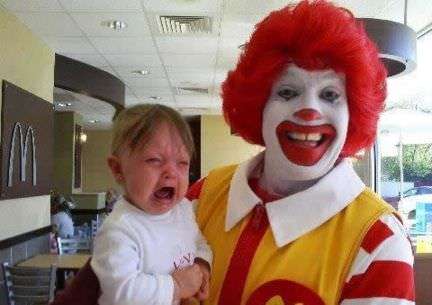 Yesterday, the Center for Science in the Public Interest (CSPI) officially filed a lawsuit demanding that McDonald's stop marketing Happy Meals with toys in them to the children of California. The filing means the group is making good on this summer's anti-McDonald's name-calling. This was the subtle legal argument CSPI offered at the time:
"McDonald's is the stranger in the playground handing out candy to children," said CSPI litigation director Stephen Gardner. "McDonald's use of toys undercuts parental authority and exploits young children's developmental immaturity—all this to induce children to prefer foods that may harm their health. It's a creepy and predatory practice that warrants an injunction."
For a plantiff, they dug up a Sacramento mother of two who works in California's health bureaucracy:
[Monet] Parham, who described herself as a health educator working for the state, said she is concerned about her children's health and wants to limit their consumption of McDonald's food, but marketing of toys featuring popular children's characters puts her and other parents under heavy pressure to frequently have to say "no" to young children's requests to eat at the chain.

"What kids see as a fun toy, I now realize is a sophisticated, high-tech marketing scheme that's designed to put McDonald's between me and my daughters," Parham said in a statement.
Apparently, Parham prefers her creepy, inferring predators in long black robes rather than red noses and oversized shoes.