North Korean Coach Forced to Become Construction Worker After World Cup Defeat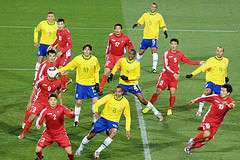 Oh, the joys of communism. From The Daily Telegraph:
North Korea's football team has been shamed in a six-hour public inquisition and the team's coach has been accused of "betraying" the reclusive leader's heir apparent following their failure at the World Cup, according to reports.…

The team's coach, Kim Jong-hun, was reportedly forced to become a builder and has been expelled from the Workers' Party of Korea.…

The country, in its first World Cup since 1966, lost all three group games — including a 7-0 defeat to Portugal.

The broadcast of live games had been banned to avoid national embarrassment, but after the spirited 2-1 defeat to Brazil, state television made the Portugal game its first live sports broadcast ever.

Following ideological criticism, the players were then allegedly forced to blame the coach for their defeats.…

However, media in South Korea said the players got off lightly by North Korean standards.

"In the past, North Korean athletes and coaches who performed badly were sent to prison camps," a South Korean intelligence source told the Chosun Ilbo newspaper.
Despite all the problems we have here, just remember that it could always be worse. You could live in North Korea.