The Inalienable Right to Saggy Pants?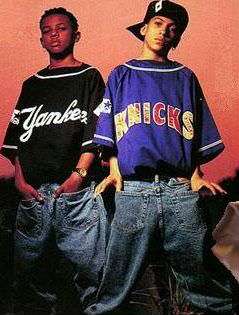 The New York Law Journal reports on a small victory for "distasteful" free expression courtesy of Bronx Criminal Court Judge Ruben Franco:
Wearing saggy pants that hang from your thighs and expose your underwear may be ridiculous, but it is not illegal, a Bronx judge has ruled.

"While most of us may consider it distasteful, and indeed foolish, to wear ones pants so low as to expose the underwear … 'people can dress as they please, wear anything, so long as they do not offend public order and decency,'" Criminal Court Judge Ruben Franco wrote in People v. Martinez.

In April 2009, defendant Julio Martinez received a summons because, as the arresting officer wrote, Martinez wore "his pants down below his buttocks exposing underwear [and] potentially showing private parts."
Read the whole story here. Greg Beato discusses the misguided war on saggy pants here.
(Via Above the Law)