Attn, DC Reasonoids: Come Hear Brink Lindsey, Jonah Goldberg & Matt Kibbe Debate "Where Do Libertarians Belong?" Monday, July 12, 6:30 PM at Reason's HQ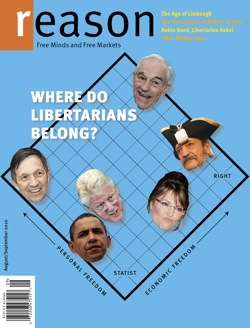 After a decade of bipartisan big-government policies, 21 months of bailout economics, and just about the same length of time for anti-government Tea Party activism, many strategic-minded libertarians are wondering which political tendencies, if any, are worth rooting for, collaborating with, or consigning to the dustbin of history. That was the subject of Reason's August/September cover forum (not yet online; click here to subscribe), in which the Cato Institute's Brink Lindsey argued that "Right Is Wrong," National Review's Jonah Goldberg warned against "The Non-Existent Center," and FreedomWorks' Matt Kibbe advised: "Drink Your Tea."
Now the three commentators are reprising and updating their debate live, in Reason's D.C. headquarters, on Monday, July 12.
What: A "Where Do Libertarians Belong?" debate between Cato Institute Vice President Brink Lindsey, National Review Editor-at-Large and American Enterprise Institute Visiting Fellow Jonah Goldberg, and FreedomWorks President Matt Kibbe.

When: Monday, July 12, 6.30-8:30 pm

Where: Reason's DC HQ, 1747 Connecticut Avenue NW, Washington DC 20009. (Two blocks north of Dupont Circle; take Red Line Metro to Dupont Circle North exit.)
Program starts at 7 p.m. sharp. Audience Q&A to follow debate. Soft and hard drinks served. Space is limited, so RSVPs are a must: Send email to events-at-reason.com.