If They Say There's a Big Crowd At the Skeptics' Conference, Should You Believe Them?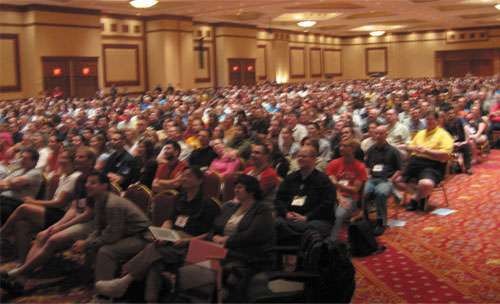 I'm acting as Reason's chief glad-hander at the Amazing Meeting, a large gathering of self-described skeptics affiliated with the James Randi eduational foundation. We're at the South Point Hotel and Casino, at the desert end of Las Vegas Boulevard. The skeptics say they've got more than a thousand people disbelieving together. Catch the fever!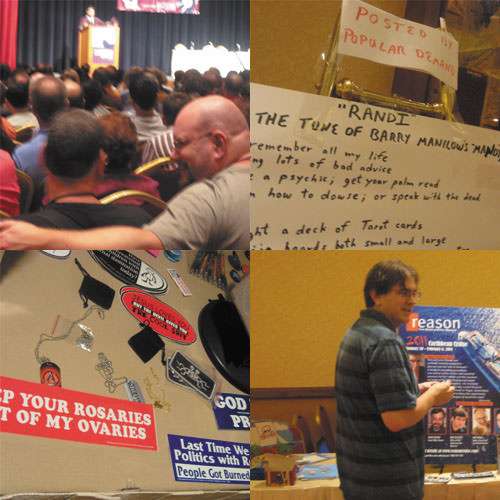 I've been warned that the skeptics, who don't believe in this libertarian cult, would be hostile in their response. I have been trying to highlight common ideas through slogans like "There's no i in Rand!" and a pirate-themed display table complete with (gold standard) pieces of eight. So far the only negative comments have been over the paucity of non-male, non-Euro faces on the Reason Cruise roster. Since I have no decent answer to that, I'll note that this is some of the hottest intellectual beefcake ever to sail the Main. Here's a satisfied customer checking out the merchandise now: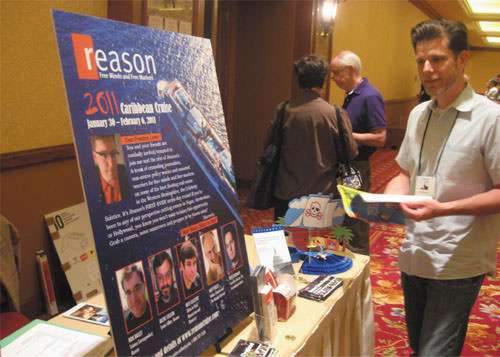 Speaking of beefcake and merchandise, have I mentioned that I am the official gladhander at this event, which is being held at the South Point Casino at the desert end of Las Vegas Boulevard? Come by the table, grab some swag and say hello.
Good fun all around. Guests include godless heavyweights like Michael Shermer and Richard Dawkins (who braved death at some date in the future when he called Islam "….potentially violent….."). James Randi was only able to get a smattering of applause for his Thank-G-d-we-finally-have-an-intelligent-president line during a speech, and that was only after a pronounced Nobody-eats-until-I-get-some-applause-for-that pause. And there's skeptical drinking.
So if you're at this event, at sorta-nearby FreedomFest, or just a Nevadan looking to exercise your right to gamble and sit up at night wondering if there's a Dog up there, please drop by.