Book Party at Reason's DC HQ, TONITE from 6-8PM!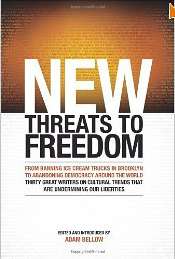 Please join the DC-area staff of Reason for a book party in honor of New Threats to Freedom, a new collection edited and introduced by Adam Bellow that details the wide range of attempts to repress everything from the First Amendment to philanthropic giving to the inalienable right to enjoy ice cream cones.
Reason.tv's Nick Gillespie will lead a fast-paced discussion of the book's themes with Bellow and contributors Katherine Mangu-Ward (Reason), Stephen Schwartz (The Weekly Standard), and Christine Rosen (The New Atlantis).
The event will take place at Reason's Washington, DC office on Monday, May 24 from 6-8PM. Beer, wine, soft drinks, and light fare will be served.
What: Book party for New Threats to Freedom

When: Monday, May 24 from 6 – 8PM

Where: Reason's DC HQ, 1747 Connecticut Ave. NW. Two and a half blocks north of Dupont Circle, near S street. Take the Red Line Metro to Dupont Circle and use the North exit
Space is limited and RSVPs are required. Please send an email to events@reason.com to reserve your space.
Co-sponsored by the Templeton Foundation.