Taste The Rainbow For Extra Credit, & Other Sex Ed Attempts Gone Horribly, Horribly Wrong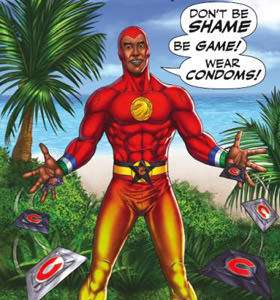 Cracked.com has a hilariously horrifying list of the five worst attempts to teach sex ed. A snippet:
You remember school, right? With all the geography and pi and recess and stuff. It was pretty fly. It's no surprise then, that schools are at the forefront of making teenagers taste condoms.

A teacher in Santa Fe, New Mexico decided to forgo the tastefully made Cold War-era film reel warning that pubic hair is a-coming, and instead bought a 30-pack of guava condoms and made the kids taste test them. His lesson plan managed to get into the news after a 15-year-old female student took issue with putting a dick sock in her mouth in front of the rest of her class. The teacher's reply? "Come on, sweetie, have a little fun."
Go here for the whole list. And the origin story of Condoman over there, too.