Attn, DC Reasonoids: Conquer Snowpacalypse 2 Tonight With Former New Mexico Gov. Gary Johnson at Reason's DC HQ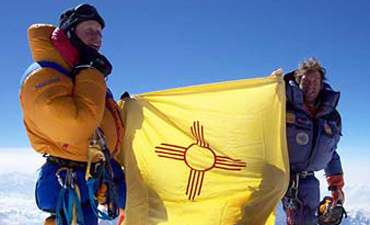 Reason magazine invites you to join us for appetizers, drinks and the opportunity to meet with Gary Johnson, former governor of New Mexico and honorary chairman of the Our America Initiative.
Tonight, Gov. Johnson will reveal an economic recovery plan that is long on free markets, spending cuts, and tax cuts and short on mandates, tax increases, and massive increases in government expenditures.
Doors open at 6:00 p.m. Johnson will begin his remarks at 6:30 p.m. and will be available to chat throughout the evening.
In 2003, Johnson climbed Mt. Everest just a few months after busting his leg in a skiing accident. That's a feat less inspiring than his record as governor: Johnson vetoed 750 bills and never raised taxes in eight years. He is outspoken on issues ranging from the deficit to the war on drugs to Afghanistan and Iraq. He is frequently mentioned as a possible Republican presidential candidate in 2012. The Our America Initiative is dedicated to advancing the public debate on national issues including civil liberties, free enterprise, limited government, and traditional American values.
Also at Reason's DC HQ tonight: Harvard economist Jeffrey Miron, an outspoken critic of TARP, stimulus spending, drug prohibition, and more.
Who: Gary Johnson, Honorary Chairman of the Our America Initiative

What: Drinks, Appetizers, Discussion

When: Tuesday, February 9 from 6 to 8 p.m.

Where: Reason's DC Office, 1747 Connecticut Ave. NW, Washington, DC 20009
Watch Reason.tv's interview with Gov. Gary Johnson below.