Bubbles Jackson: Alive, Well, But Too Violent to Go to Jacko's Funeral (Wherever it will be)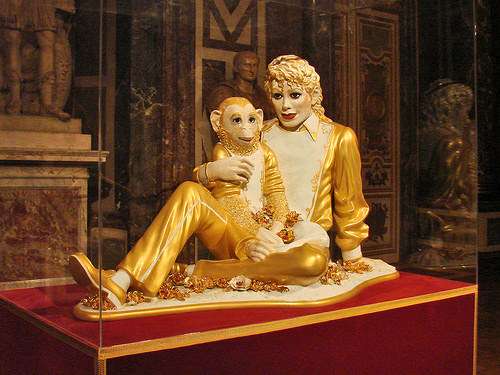 Just as Wham!'s George Michael had his Andrew Ridgely, Michael Jackson had a mostly silent and apparently useless pal during his superstar heyday: Bubbles the Chimp, immortalized by Jeff Koons and beloved by fans.
So what's up with Bubbles these days? We report, you decide:
There have been many rumours regarding Bubbles's whereabouts, the most recent being that he had been plastinated a number of years ago and was being exhibited at The Body Worlds & Mirror Of Time exhibition at the O2 Centre in London.

Jackson rescued Bubbles from a cancer research centre and in the late Eighties, the pair travelled everywhere together.

He sat in for the recording sessions of the smash-hit Bad album and during the ensuing world tour he and the singer shared a two bedroom hotel suite.

At Neverland, he slept in a crib in Jackson's bedroom and was allowed to use the star's private toilet.
That last, btw, is a privilege denied former Jacksonian Corey Feldman.
The 26-year-old chimpanzee has been discovered alive and well at an animal sanctuary in Florida.

Now bosses at the Centre for Great Apes in Wauchula, Florida, have allowed TV cameras to film Bubbles to prove he was still alive.
Jackson banished the monkey not for telling tales out of school but because he reportedly became violent around the singer's children.
For Bubbles fans only, go here.