"…the Atlantic Yards project in Brooklyn—I don't think it's going to happen."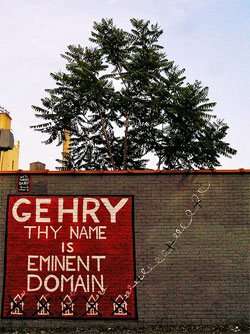 Here's one genuinely welcome casualty of the Bush-Obama recession. Gothamist brings word that Brooklyn's Atlantic Yards project is floundering:
Starchitect Frank Gehry really stepped in it during a recent interview with industry journal The Architect's Newspaper, admitting he doesn't think developer Bruce Ratner's $4.2 billion plan to build a Nets basketball arena, office towers and thousands of apartments in Brooklyn will become a reality. In an interview on the occasion of his 80th birthday, Gehry dropped the bombshell when asked about unrealized commissions he most wishes had been built: "The Corcoran Gallery in DC, the Atlantic Yards project in Brooklyn—I don't think it's going to happen."

Gehry's team has designed and redesigned the basketball arena and other buildings as the project has spun its wheels under the weight of enormous community opposition, lawsuits, and, now, a foundering economy. In November, it was learned that Gehry quietly dismissed more than two dozen staffers working on fresh designs, then Ratner stopped all work while fending off lawsuits, one of which (a challenge to the development's use of eminent domain) is still winding its way through the courts.
New York turned to eminent domain, it's worth remembering, so Bruce Ratner could build a new basketball stadium for the Bruce Ratner-owned Nets.
More Atlantic Yards blogging here and here. More on New York eminent domain abuse here.