Hot or Not: Presidents' Day Edition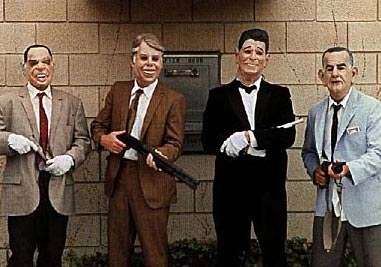 This year's Presidents' Day game: Ignoring Obama, who hasn't accumulated enough of a record to compete, rate the post-World War II presidents from least bad to worst. If you'd like, you can segregate them by party.
To start the arguments, here's my Democratic ballot:
Carter
Clinton
Kennedy
Truman
Johnson
Carter gets the top spot for his relative social tolerance—if it weren't for Peter Bourne's poor judgment, we might have emerged from the '70s with decriminalized pot—and for deregulating planes, trains, and trucks. Of course he also botched the deregulation of the S&Ls, and he bequeathed us the very un-deregulatory Department of Energy, but that's why we say "least bad" instead of "best."
My Republican preferences:
Eisenhower
Ford
Reagan
G.H.W. Bush
Nixon
G.W. Bush
Perhaps it's perverse to put Ford so high, but as we enter our second consecutive messianic presidency I'm increasingly nostalgic for the do-nothing executives. Ford is the closest we've had in my lifetime.
Make your picks—and make fun of mine—in the comments.