Attn, DC Reasonoids: See Reason.tv's Drew Carey Project on the Big Screen, Saturday, October 4, at 3.30pm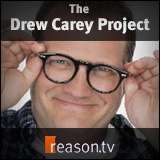 reason.tv is proud to be participating in this year's American Film Renaissance Film Festival, which runs in D.C.-area theaters from Wednesday, October 1 through Saturday, October 4.
On Saturday at 3.30pm, at the Goethe-Institut (812 Seventh St. NW, Washington, D.C. 20001), selections from The Drew Carey Project will anchor the festival's shorts block.
Go here for more information and to buy tickets ($8.00 for that viewing).
Other highlights of the festival include:
Wednesday night: The Dukes. When a group of down-on-their-luck friends try to launch a comeback for their nostalgia group, The Dukes, creative juices flow, as do the risks of ending up on the wrong side of the law. Starring Robert Davi (License to Kill, Profiler), Chazz Palminteri (Analyze This, The Usual Suspects) and Peter Bogdanovich (The Last Picture Show, Mask). Run time: 94 min.  Rated PG-13 for brief sexuality and drug references.  Introduction and Q&A with Director, Robert Davi. Playing at 7pm at AMC Loews Georgetown 14 (3111 K St. NW, Washington, D.C. 20007).

Film screening ticket $10. After party with actor/director, Robert Davi, at Sequoia Restaurant located in Washington Harbour, within walking distance of the theater. You must purchase the $40.00 ticket to gain entrance to after party.

Thursday Night: Do As I Say. With the 2008 election cycle in full swing, it's hard to turn on the television or open a newspaper without finding politicians, pop stars and pundits blaming capitalism and private enterprise for the world's problems. But how sincere are they about their beliefs? How do they live? The answers will shock you. In Do As I Say, a documentary that will forever change how we see America and its leaders, filmmakers Nicholas Tucker and Lucas Abel take us on an unforgettable journey through a political landscape filled with hypocrites and humbugs. Along the way, they reveal a disturbing national truth: that the two-faced mantra "do as I say, not as I do" has become the unwritten golden rule of modern liberalism. Based on Peter Schweitzer's New York Times bestselling book Do As I Say (Not As I Do) . Run time: 90 min. Not Rated. Introduction and Q&A with director, Nick Tucker. Playing at 7pm at The Carnegie Institution (1530 P St. NW, Washington, D.C. 20005).

Film screeing ticket $10. Purchase the $30.00 ticket to attend an after-party with director Nick Tucker in the Carnegie Institution's rotunda.

Friday Night: An American Carol. The American spirit is celebrated in the outrageous and totally irreverent comedy An American Carol from David Zucker, the master of movie satire (Airplane!, The Naked Gun, Scary Movie 3 and 4). In An American Carol, a cynical anti-American "Hollywood" filmmaker sets out on a crusade to abolish the 4th of July holiday. He is visited by three spirits who take him on a hilarious journey in an attempt to show him the true meaning of America. An all-star cast featuring Kelsey Grammer, Jon Voight, Leslie Nielsen, Dennis Hopper, James Woods, Robert Davi, Trace Adkins and Kevin Farley. Run Time: Approx. 90 min.  Rated PG-13 for irreverent content, language and brief drug references. Playing at 7pm at Regal Ballston Common 12 (671 N. Glebe Road, Arlington VA 22203).

Film screening ticket $10. Immediately following the screening, a Pub Crawl will take place within walking distance of the theater.  You must purchase the $15.00 to participate in the Pub Crawl.

Saturday Night: U.N. Me. In this striking documentary, filmmaker Ami Horowitz illustrates how the United Nations, the world's foremost humanitarian organization created to ennoble mankind, has become so ravaged by corruption that it actually enables evil and creates global chaos.  By examining failures in Rwanda and Darfur, and the Oil for Food scandal, Horowitz shows how the UN has become the pacifier of dictators, thugs and tyrants.  Using a unique blend of the informational qualities of a traditional documentary and the entertainment value of a narrative film, U.N. Me is irreverent, humorous and intense.  Filmed in Africa, the Middle East, Europe and the US.  Run Time: Approx 90 min.  Not rated.  Introduction and Q&A with director, Ami Horowitz. Playing at 8pm at the Goethe Institut (812 Seventh St. NW, Washington, D.C. 20001).

$15 for screening ticket and admission to wine and cheese reception immediately following.
For a full listing of all films on display, go here. Advance online ticket purchases are highly recommended. For more info on that and venues, go here.