Noose Laws Hang Free Speech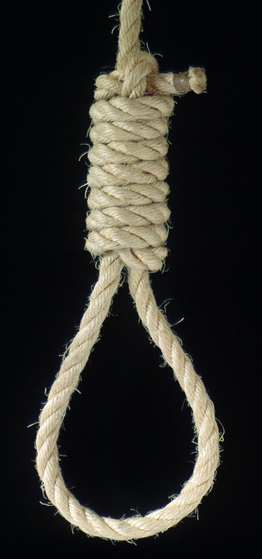 According to DiversityInc, the number of reported noose incidents has increased exponentially since the Jena 6 affair:
Since September of last year, the number of reported noose incidents nationally jumped to nearly 80, according to the DiversityInc Noose Watch, the first and only tracker of national reported noose sightings….

"We might see half a dozen [noose] cases a year; there is no doubt in my mind that there has been a major outbreak of noose incidents blossoming because of Jena," said Mark Potok, director of the Intelligence Project for the Southern Poverty Law Center (SPLC), which monitors hate crimes.
Also from DiversityInc, legislative responses to the noose "epidemic":
To date, three states have passed laws to punish those who use nooses as a means to intimidate. Connecticut and New York passed laws in May, with prison sentences ranging from a year in Connecticut to four years in New York. Earlier this month, Louisiana, the state where thousands of protestors marched in support of the Jena 6, became the third state to pass such a law. So far, no one has been sentenced under these new laws….

Louisiana's law makes hanging a noose, or an image of one, on another person's property or on public property with "the intent to intimidate" illegal and punishable by up to $5,000 and up to a year in prison.

Lawmakers in Florida, Maryland, Missouri and North Carolina are considering similar legislation.
There's little debate about the "real" meaning of a noose: It represents xenophobia, mob rule, and retribution by torch light. But the noose's negative cultural significance is not sufficient justification to ban it on public property. Why is a group of hicks waving images of a noose—or actual nooses—in the middle of a public park any less deserving of 1st Amendment protection than thousands of Ku Klux Klan members staging a rally on main street? Afterall, in order to allow groups like the Klan to march, cities must be able to differentiate between a protest rally and a mob hell-bent on peforming a lynching. That same rubric should be applied to displays of nooses on public property.
Associate Editor Katherine Mangu-Ward wrote "Five Facts About the Jena 6" here.
Hat tip to Al Tompkins at Poynter.org.
ADDENDUM: I meant to point out that "intimidation" is an ambiguous qualifier for determining which representations of a noose count as free speech and which count as a hate speech/crime.