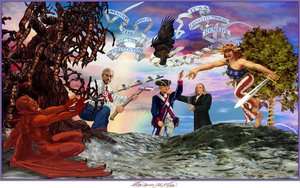 Catchy rhymes, vibrant colors, a hyper-masculine Lady Liberty, and Ron Paul wielding various sharp-edged tools populate artist Randy Lee Blain's iconic representations of the good doctor-candidate.
But the award for Most Nonsensical Picture That May Actually Reflect The Worldview of Ron Paul's Legions of Loyal Followers goes to "The Second Amendment." This print features a "Locked and loaded Lady Liberty guarding the bridge to LibertyLand [sic] with a billy goat gruff, a mountain goat symbolizing the wild spirit of liberty."
Blain promises that his limited-run Ron Paul concept pieces are destined to appreciate in value. You better believe he's telling the truth: According to Blain's website, his patrons include renowned art collectors Michael Jackson, David Bowie, and Ted Turner.