Britain's Sex Criminals: Foiled Again!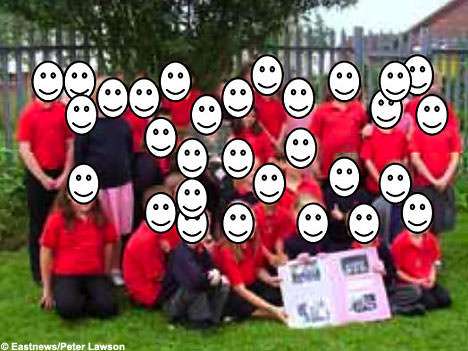 Every elementary school needs a web site, but everyone knows that only perverts use the Internet. What's an administrator to do?
A primary school has been accused of being alarmist for covering up the faces of pupils on its website- -apparently to protect them from paedophiles.

Bizarrely, the images have been altered with the type of smiley faces popular during the Acid House dance craze of the 1980s.

Headmistress Clare Reece said yesterday: "The public nature of the internet is an issue we feel strongly about.

"Not all parents want their children's picture on there.

"You can't say what is going to happen with any of those pictures."

Previously, faces were simply blurred, but newer pictures, including action shots of the athletics tournament, use the smiley faces.

However, one child in a line-up of medal winners has been singled out – he alone has been given a sad face.
A commenter at the peerless Daily Mail notes: "That's funny, but safe." Many more terrifying pictures here.