The Mini Tuesday Primary Thread: Paul Triumphs, Clinton Endures, Mike Huckabee Splatters Against the Wall
UPDATE 8:36: Ron Paul has been re-elected to Congress in the Fourteenth District of Texas.
No Democrat has filed to run against him, so winning the GOP nomination has assured him re-election.

Campaign manager Mark Elam: "Chris Peden is toast. It's just a question of how big the margin is."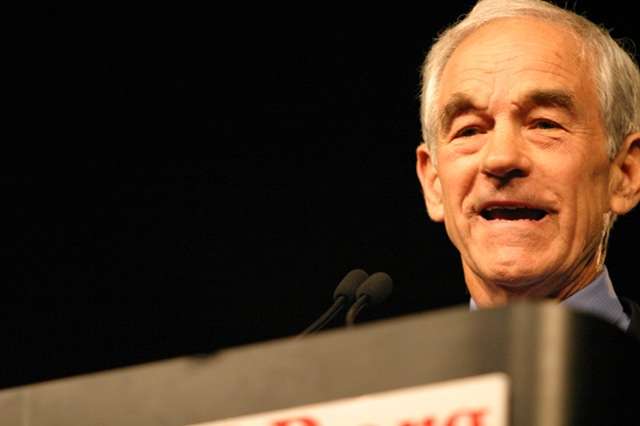 The campaign is looking at a result in line with its final internal polls, with about 70 percent of the vote going to Paul.
With about 8,400 votes in, Paul is leading Peden 72-28.
UPDATE 8:53: These are early votes being reported right now, but around 40 to 50 percent of votes were cast in early voting and the Paul campaign doesn't expect the election day results to diverge. Brazoria County, which casts the plurality of TX-14 votes, is going 72-28 for Paul and 16 percent for him in the presidential race. Fort Bend County is Peden's stronghold, going only 60-40 for Paul.
UPDATE 10:39: With most of the early votes in and 14 percent of today's votes, Paul is up 68-32. In Fort Bend, where 67 percent of today's vote is in, there's no notable gap between today's vote and the early vote.
UPDATE 10:44: With Huckabee out and Bush endorsing McCain, how long will Paul stay in the GOP race? I've called the presidential campaign and have no answer yet, but obviously getting re-elected was the last real moment of truth in a now utterly Quixotic campaign. Paul is free, as Kucinich was in 2004, to stick around as long as he wants and hope that there are anti-McCain protest votes to be had in Mississippi, Pennsylvania, Indiana, etc and etc. Wracking up some delegates and speaking at the RNC: That's still a realistic goal. I can't say anything about the rumors that Paul is exploring a third party bid.
UPDATE 11:06: So, I pooh-poohed the claims that Republicans would cast finger-in-the-eye votes for Hillary in these primaries, but one of the most striking shifts in the exit polls is the Republican move away from Obama. Obama won them in Wisconsin 72-28; he won them in Ohio with 55-45, and in Texas with 53-46. It's easy to explain that shift by pointing to Limbaugh-inspired mischief voters. Maybe they were only 4-5 points of the shift, but that might be enough to swing it.
UPDATE 11:32: Ron Paul's statement.
"I am honored that the voters in the 14th District expressed their continued confidence in my leadership by overwhelmingly reelecting me to the House of Representatives. I have no Democrat opponent in November and will serve another term in Congress where I will continue my battle in behalf of taxpayers.

My message of limited-government and upholding the Constitution has once again been endorsed by the conservative-minded voters in my district. They understand and support the battle I have waged for thirty years to make the federal government smaller, to reduce wasteful government spending, to balance the budget, and to promote a foreign policy that always puts America first.

Some Washington insiders would have you believe that Republicans no longer believe in the principles our country and party were founded upon, but the voters in my district have once again proven them wrong.

The message of freedom is popular, and I will continue to trumpet it in Congress and across America as I fight on behalf of the conservative, common sense values which made our country so great.

In conclusion, I would like to offer my thanks and gratitude to all of the wonderful people who supported me in this campaign. I look forward to representing all of the good people of the 14th District of Texas in Congress in the years to come."
With 56 percent counted, Paul is winning 69-31.
UPDATE 1:31: With all but two precincts in, Paul has won 70.2-29.8 over Peden. Peden's improved only eight points over the much-less-hyped Cynthia Sinatra campaign of 2006.
ORIGINAL POST, 6:00: This is the last truly huge primary day of the year, with four states voting for presidential nominees and two of them hosting hotly-contested House primaries: Dennis Kucinich's race in Ohio and Ron Paul's race in Texas. Both of them will win. Sources in Paul's campaign were tight-lipped, but they expect to know they've won within 30 minutes of the polls closing. Also, they expect Republican turnout to be high despite GOP voters dabbling in the Clinton-Obama race. What about Chris Peden's boast that the GOP committee in Aransas County has endorsed him? "Six precinct chairs in the county that makes up one of the smallest parts of our district? No, we're not worried about that." On the local sherrifs who endorsed Peden? "They've endorsed against Dr. Paul in the past, and Republican voters aren't moved by their sherrifs or by party officials they've never heard of." Bottom line: Eric Dondero probably doesn't need to update his resume for a new Congressional job tomorrow.
What should you be reading? The estimate John LaBeaume has electoral secrets up at his blog. Mark Halperin is posting exit poll data as it comes in, and old exit polls are up at CNN's archived 2004 site. (They're useful for gauging if independent or black or Hispanic or etc. turnout is up or down this year.) CNN's 2008 site has the detailed exits. Numbers for the Texas-14 House race are here. For reference, here's how Paul did in 2006, when he won 78 percent of his primary vote.
Brazoria County - 8,829 votes (80.5 percent)
Galveston County - 3,588 (75.9 percent - this is where Peden's city of Friendswood is located)
Victoria County - 3,279 votes (81.4 percent)
Wharton County - 1,962 votes (74.1 percent)
Fort Bend County - 1,945 (79.1 percent)
Chambers County - 1,708 (74.3 percent)
Aransas County - 1,658 votes (69.2 percent)
Matagorda County - 548 votes (74.8 percent)
Calhoun County - 355 votes (81.6 percent)
Jackson County - 214 votes (63.7 percent)
Here's what to watch tonight and when.
7 p.m.
Vermont
The Democrats (15 delegates) - Obama will win easily: He's endorsed by Sen. Patrick Leahy and Rep. Peter Welch, and the parts of the state that aren't liberal college towns (good Obama territory) are sleepy rural areas that mirror the parts of New Hampshire where Obama did best. Obama 64, Clinton 33, for a 4 or 5 delegate advantage. If this isn't called immediately, it's bad news for the O-Team.
The Republicans (17 delegates) - John McCain will run laps around Mike Huckabee. Figuratively! He'll beat him by at least 2 to 1 and sweep the delegates. (He beat George W. Bush by 24 points here in 2000.)
7:30 p.m.
Ohio
The Democrats (141 delegates) - The Clinton campaign has seized on the Austan Goolsbee/NAFTA gaffe masterfully, and aided by union muscle and the machine of Gov. Ted Strickland, they should be able to hold off Obama's smaller union machine, big ad buys, and mayoral endorsements in the big cities. There's bad weather all over the state, but ice storms in eastern Ohio: Bad for Obama in the cities, good for Clinton in the Mahoning and Ohio valleys. Clinton 54, Obama 45, with Clinton up by about 7 delegates. If this is called within an hour, Clinton's last-minute poll surge was very real.
The Republicans (85 delegates) - John McCain takes it easily, by better than 25 points, and wins at least 75 delegates. At this point in the night he'll be within 100 delegates of the nomination.
Other races: In the 10th district, Rep. Dennis Kucinich will win re-election over a field of challengers led by Cleveland Councilman Joe Cimperman.
8 p.m.
Texas
The Democrats (193 delegates) - If this election had taken place on Friday I think Obama would have won going away, by about 4 or 5 points. But everything indicates that Clinton experienced a last-minute resurgence, aided by the "Children" ad, aided by a number of things that have caused white voters to take a second look at the race. I expect Obama to narrowly lose the popular vote today—the question is whether he was winning the well-organized, union-aided effort to score early voters in the last two weeks. My bet is that he split that, and will fall short today. Clinton 50, Obama 49, but aided by the caucus that begins at 8:15 p.m. in most of the state and 9:15 p.m. in the west, he will win the most delegates.
The Republicans (137 delegates) - McCain wins by better than 20 points and clinches the nomination.
Other races: In the 14th district, Ron Paul will easily put away Councilman Chris Peden. A 15-20 point margin.
9 p.m.
Rhode Island
The Democrats (21 delegates) - Obama tried to spook Clinton with an 11th hour trip here, and attracted about 10,000 people to a rally in this state where about 35,000 voted in the last presidential primary. He'll lose, but Clinton's victory will be only about 10 points and 2-3 delegates.
The Republicans (17 delegates) - Eight years ago McCain won this primary over George W. Bush by 23 points. He'll beat Huckabee 2 to 1. New England loves the man.