Attn: DC Reasonoids—Come See Andrew Breitbart and Greg Gutfeld Discuss What's Next for Conservative New Media, Saturday Night at Reason HQ, 6:30 P.M.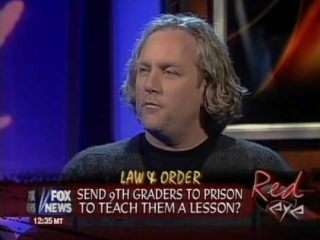 It's a John McCain world now for Red State America, so what does that mean for the vibrant conservative alt media that tends to hate his guts? Come see two of the funniest men in these United States -- The Drudge Report's Andrew Breitbart and Red Eye host Greg Gutfeld -- talk with reason Editor Matt Welch and reason Online Editor Nick Gillespie about the future of New Media, fallout from CPAC, the threat of a Democratic future, and the lasting allure of Steve Garvey's forearms.
What: Discussing the Brave New World of conservative New Media with Andrew Breitbart and Greg Gutfeld.
Where: Reason HQ, 1747 Connectict Ave. NW, Washington, D.C. 2009, just a few jaunty blocks up from Dupont Circle.
When: Doors fly open at 6:30 P.M., Saturday night, February 9.
RSVPs: events@reason.com or 310.391.2245.