Next Up: Tadzio Bed Set for Boys
Your prostitot news for the day: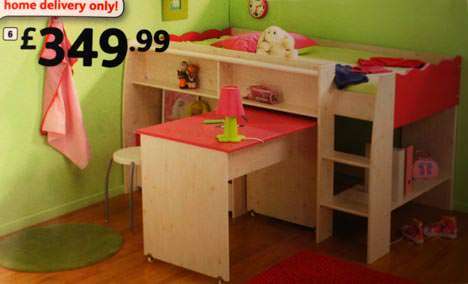 An online campaign by a group of mothers has forced Woolworths to withdraw a line of bedroom furniture for girls called 'Lolita'.

The Lolita Midsleeper Combi, a wooden bed with pull-out desk and cupboard designed for girls aged around six, was put on sale on the Woolworths website for £349.99.

Staff, it appears, had no idea of the sexual connotations of the name. But a mother who was browsing the site did, and put a message on the Raisingkids.co.uk website to complain.

She wrote: "Am I being particularly sensitive, or does anyone else out there think it's bad taste for Woolies to have a kiddy bed range named 'Lolita'?."
That's from the Daily Mail, obviously.