Attn, DC Reasonoids: Happy Hour, Tuesday, November 27, 6.30PM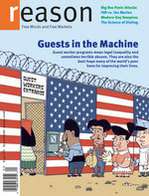 Please join reason staffers Nick Gillespie, Jesse Walker, Ronald Bailey, Radley Balko, Kerry Howley, Katherine Mangu-Ward, Michael Moynihan, and David Weigel on Tuesday, November 27, as we enjoy drink specials and 15-cent wings at The Big Hunt.
We'll be celebrating the publication of our December '07 issue and hopefully our January '08 issue (if the printer delivers on time), which features the blockbuster stories on guest-worker programs, panics over big-box retailers, the New Deal and movie censorship, and non-collectivist diet tips that really work (this last may be the most pressing political story of the season for all too many of us).
We'll also be celebrating special guest star Matt Welch, author of the awesome new book McCain: The Myth of a Maverick; reason's selection as a finalist for an Utne Independent Press Award for our political coverage; and the blockbuster success of reason.tv, where Drew Carey defends medical marijuana, Anthony Bourdain defends foie gras, and Kurt Loder defends free expression.
The fun starts at 6.30PM and ends whenever you say it does.
Free copies of reason and reason stickers, too.
The Big Hunt is located at 1345 Connecticut Ave., NW, one block south of Dupont Circle.
We'll be gathering at the side bar, probably upstairs too, and will have access to the (smoker-friendly!) back patio.