"We're Going to Kill Some People"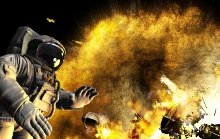 The Federal Aviation Administration has no power to regulate the nascent private space travel industry until 2012, and seemed oddly cheerful about it at a recent conference of air and space lawyers:
"We're going to kill some people," says Tracey Knutson, a lawyer who has advised the FAA and who moderated a panel discussion on the topic. "The question is how the relationship then changes."

Laura Montgomery, senior attorney in the FAA's Office of the Chief Counsel, said once somebody dies, "we then have the authority to act and we would." Until then, Congress "told us to keep our mitts off."
The background:
In the Commercial Space Launch Amendments Act of 2004, Congress told the FAA to treat the industry more like an adventure business than an air carrier. The law protects the rights of those who wish to be among the first private citizens to go into space — likening them to visionaries and adventurers who knowingly take other risks like climbing mountains — while giving the people who operate the new types of unproven spacecraft the scientific latitude to learn from their first fatal mistakes.

"This is an ultra-hazardous business," [said] Patti Grace Smith, the FAA's associate administrator for Commercial Space Transportation
Read about recent on-the-ground deaths–not enough to provoke the regulatory wrath of the FAA–here.